Bound for Cascais and a visit to Lisbon 21-27th August

Nimue
Wed 27 Aug 2008 21:49
We were shrouded in mist and not much wind as we left Nazare and this lasted up until we rounded Peniche.
Leaving Nazare
From then we were able to sail and as we rounded Cabo da Roca (the westernmost point of continental Europe) the wind got up and we were getting gusts of over 30 knots. As we approached Cascais the anchorage looked perfect , so we decided to drop anchor in the really pretty bay rather than go into the marina (which was expensive at 50 euros per night). We are able to dinghy ashore the next day and have a look round at what we both agree is a very impressive town and handsome seaside resort.
Arriving in Cascais View of the town from our anchorage
Very smart Cascais!!
The second night at anchor was to say the least, a bit blustery and at one stage we had over 40 knots of wind over the deck. In fact as we were watching a video that evening, the screen decided to take a tumble off it's stand, but I caught it just in time!! We did anchor watch that night , but we had no worries as our Bruce anchor (nicknamed Brucey Baby) held us really well. Anyway as we had decided to take a trip to Lisbon the next day, we thought it would be prudent to take Nimue into the Marina and we ended up staying a couple of nights.
Cascais is on the Estoril coast and as usual in Portugal has an excellent and reliable 30 minute train service into Lisbon. I took the advice of my Lonely Planet guide and we visited a couple of it's recommended sights. The first being Cafe a Brasileira (a cafe bar) in the Baixa region and is an historic watering hole with warm wooden innards and a busy counter serving coffees during the day. The second sight to be visited was the 'Castelo de Sao Jorge, which stands at the very top of the highest hill in Lisbon and a very long uphill walk it was too!! It's existence dates from the 10th-11th centuries and during this time was conquered by the first king of Portugal and the city of Lisbon was captured from the Moors. It was declared a national monument in 1910 and has since had major restoration work carried out. A truly impressive castle, which has absolutely fabulous panoramic views of the city of Lisbon. We took the opportunity of walking round Lisbon, rather than catching the usual sight seeing buses/trams, but we were absolutely dead on our feet by the time we arrived back at the station to catch the train back to Cascais.
Cafe a Brasileira The tram we didn't get on!!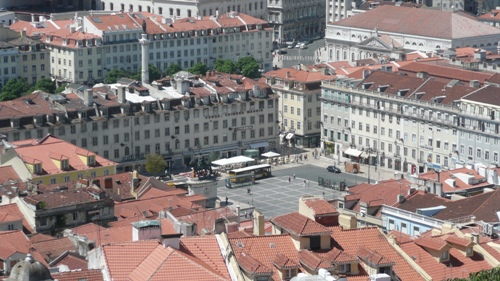 At ground level and as seen from Castelo de Sao Jorge More views from the castle
And some more.......................................................................
Drink stop and it took ages to get one!!!
As we were just about to eat our evening meal on board that night, I caught a glimpse of Beez Neez pulling into a nearby berth. Two nights was sufficient in the marina, so we went back out to anchor in the bay for another two and were joined by Mandy and Steve for roast chicken the following evening. I found out that Mandy was a very keen 'fisherperson' (fishing since the age of 4!!) and as I am an absolute novice, I was keen to listen to her advice. On checking through my equipment, Mandy found it highly hilarious that I had bought some weighing scales, before I had even caught a fish.........watch this space.
Taxi service for dinner on board Nimue
---