29th April - 5th May 2013 - To Nassau and Atlantis!

Nimue
Sun 5 May 2013 19:57
We all decided to leave Georgetown 'en masse', but our departure was slightly delayed, due to the anchor winch failing and having to pull up the 30 metres of anchor chain by hand!Not a real problem, but it takes longer than an electric winch! We were heading out of 'Conch Cut' behind a very large Catamaran called Venora, which seemed to be weaving in and out of the channel, causing us to slow down and be mindful of what he was up to! As soon as we were out, we turned the engine off and started to sail for Blackpoint, 53nm away. Within moments Venora crossed Nimue's bow and then we noticed the skipper shouting and waving his arms at us. It then became clear why.......he was trolling fishing lines from his stern and we were too close. REALLY?? Think not.....we were SAILING and he motored across OUR bow; far too close with his fishing lines..... and we had the 'right of way'. Venora obviously didn't think this was the case and continued with the abuse and eventually after about 15 minutes he called on VHF16 (Emergency Channel) to advise he had taken our Name and MMSI number and in his words "would see us later". Very threatening behaviour, but we did not respond, which incensed him to make a further abusive call on the same channel. Fortunately, Windward Passage & Blue Yonder had heard Venora's abusive call and each contacted us to say that his behaviour was totally out of order and would, if necessary, come to our defence. This was not required and we sailed the rest of the passage without any further incident. We approached Dotham Cut entrance to Blackpoint, which fortunately was quite benign and arrived at the same anchorage we had stayed in a few weeks earlier. David off Blue Yonder, noticed another OCC boat, Altair, was in the anchorage and as soon as we were safely anchored we all went on Altair for 'sun downers'.
Blue Yonder Windward Passage
With another 45nm day ahead of us, we left Blackpoint at 0830 hours and exited via Dotham Cut. Although we had 14 knots of wind behind us, we also encountered a large swell, making the trip a bit lumpy. Nevertheless we made good time and arrived with Windward Passage and Blue Yonder into a comfortable anchored in Highborne.
A 37nm trip the next day to Nassau and we manage to negotiate the 'Yellow Banks' with relative ease, although it's always quite unnerving to see big black areas of coral heads looming up out of a crystal clear sea! Before entering Nassau harbour, we remembered to call
Nassau Harbour Control to advise our last port of call, etc. and then we were given permission to enter.
We anchored with Blue Yonder just outside the main channel in Nassau harbour, whereas Windward Passage had a slip in 'Atlantis'! Bill off Windward Passage had given us all a 4 day pass to explore the delights of 'Atlantis' and "oh boy"we did have some fun.................to follow!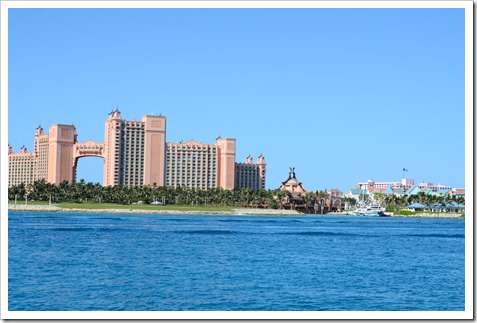 The pink Royal Towers of 'Atlantis' on Paradise Island Dinghy dock across outside of the Green Parrot restaurant and bar
The anchorage across from 'Atlantis'
---