Lift out in Almerimar - 5th - 11th August 2010

Nimue
Wed 11 Aug 2010 14:26
Within an hour of getting out of bed, Nimue was in the slings of the 50tonne lift. The marineros were running around preparing Nimue for hardstanding, a well rehearsed operation and done many times before. We had to sign paperwork to agree that we would not work on the outside of Nimue (not an unusual rule in Spain, as the locals need the work). Anyway Paolo the Italian boatyard manager soon wondered over to see what the problem was and advised that he would get his 'expert' on rudders to come and see us. As soon as Chris, the shipwright (and English) arrived, Michael and Chris were soon in deep conversation about what was believed to be the problem. In fact, by the time I had walked to the marina office and back, the bottom rudder bearing was out and the problem identified. The aluminium bracket holding the bearing had slightly expanded, thus causing the plastic bearing between the rudder shaft and the aluminium bracket to tighten, so causing the stiffness. The rudder would not have failed, but would have only got stiffer!
Fortunately we carried a spare bearing, so after the aluminium bracket was cleaned out, the new bearing fitted without any interference. The bracket was put back onto the rudder, bolted on and tested. With a huge sigh of relief, the rudder moved with ease and as good as new!!
This just left us to re-apply filler, epoxy and antifoul over the next couple of days and the job was done.....phew what a relief!!
Waiting for the filler to dry before it can be smoothed down and apply anti-foul.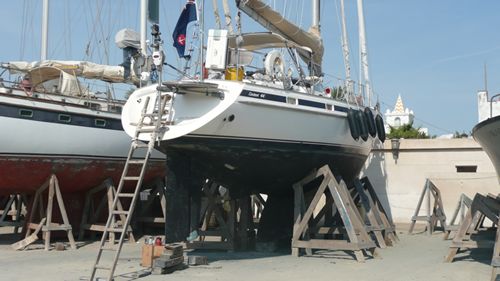 Sun baked Nimue on hard standing !
As it only cost €9 for hard standing, as opposed to €20 being in the water, we decided to leave Nimue out of the water and take the opportunity of hiring a car and explore inland. Chris had recommended the mountain route through the Sierra Nevada to Granada, which sounded more interesting than the motorway. As we twisted and turned through this stunning mountain range, we came across many towns en route, which are famous for their 'Iberico jamons (hams)' and a tourist attraction in their own right. We stopped for our morning 'cafe con leche' (coffee) and purchased some 'jamon' inTrevelez, a pretty town situated in a high sided valley just below the snow capped mountains, before heading down into Granada. Unfortunately when we arrived in Granada to look round the Alhambra, we got to the entrance to find out it was fully booked. With no chance of getting in and as time was getting on, we decided head back to Almerimar and leave Granada for another occasion.
Panda hire car - with air con!! Is that really snow?
Approaching Trevelez and the Jamon houses
More snow!!! Trevelez
The 'driver' waiting for his 'cafe con leche' More Trevelez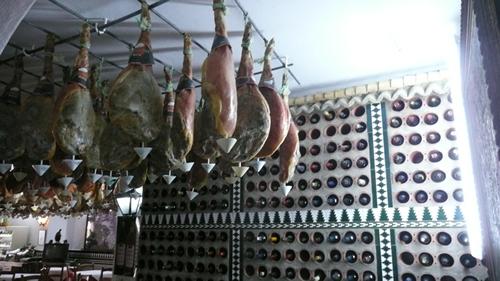 Jamon, Jamon everywhere, so not a place for vegetarians!!!
Almerimar itself is purpose built, with an artificial yacht harbour and the surrounding area is full of white plastic sheets under which a major proportion of north Europe's winter vegetables are grown. Despite a good beach, Almerimar is not a particular interesting place to look around and in our opinion, rather 'soul-less'. However, we cannot fault our experience with the marina and would have no hesitation in going back to have work undertaken on Nimue.
We were glad to get Nimue back into the water, not only to clean her, but to have some relief from the extreme heat. Most days we were experiencing 35°C and this only went down to 30°C at night!
Our next destination West was to be Ceuta, a Spanish enclave in Morocco and opposite Gibralter. However, on speaking with one of the very helpful Port office staff in Almerimar, he recommended that we should head due South from Almerimar to the other Spanish enclave, Melillia, as he advised it was alot nicer than Ceuta.
Nimue back in the water One of the yacht basins in Almerimar
View towards the boatyard Almerimar port reception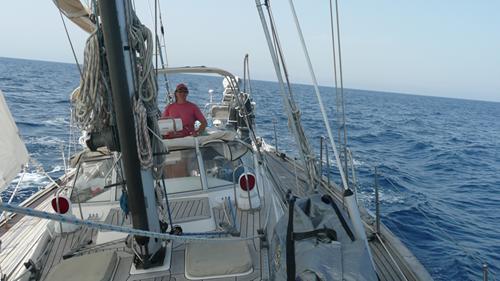 It's not snow but all that plastic sheeting!! Back sailing, but whereare we going to??
See next blog as to where we ended up.
---