Port Washington & Oyster Bay - 14-22 July 2011

Nimue
Sat 23 Jul 2011 23:56
Port Washington was very suburban and within the Manhattan 'commuter belt'. We were, at last, able to replenish our propane bottles at the local hardware shop and no sooner had we walked into the shop, when the owner asked "so what is your religion?". Something one doesn't expect to be asked when entering a hardware shop or anywhere else, but hey this is America, so you never quite know what you'll be asked! Anyway we were not offended and started to chat with the owner's wife. We soon got onto the subject of 9/11 disaster. She recollected speaking at the time with one of her friends whose husband was in one the towers and she naturally responded very positively, but unfortunately he didn't make it. The one thing that really hit home to us was when she spoke of the number of vehicles on the streets and car parks in Port Washington that were still there the next day and never picked up by their owners!
Anyway on a lighter note, we found a great deli, which served every style of egg for breakfast, so every so often we would treat ourselves.
By now it was starting to 'heat up' and in fact it was so hot (100 F with 100% humidity), that we had often sought refuge in the odd supermarket. Nimue does not have 'air-con' so you can imagine the heat, especially at night?
We were able to stay here for almost a week on a 'free' buoy
Michael on his way back from picked up the propane gas bottle from that interesting hardware store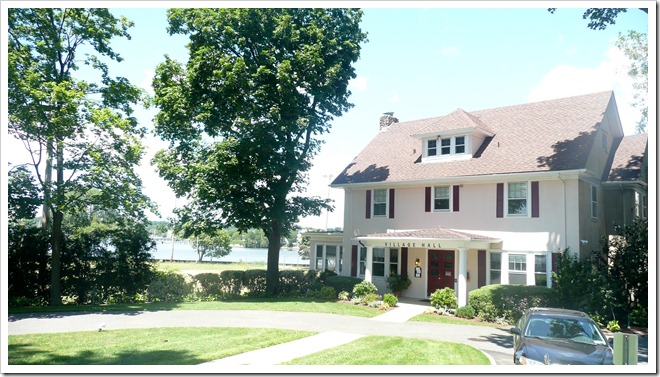 The picturesque town of Port Washington with the very 'posh' looking village hall.
Oyster Bay was our last destination on Long Island and just 20nm further up the coast. Due to the exhausting heat it was good to feel the breeze, but this soon fell away, as we dropped anchor in Oyster Bay. We were met by the local police boat and a few remarks were made when he saw 3 British boats. Michael's response was "we've come to take America back" to which the officer responded "you can have her then"!
Since its settlement in 1653, Oyster Bay has had a rich history as a colonial settlement, ship building centre and a hub of spy activity while under British control during the Revolutionary War. In the 1800's, Oyster Bay became a popular summer destination for wealthy New York City families. In 1902, Oyster Bay was brought to national prominence with the 26th US President Theodore Roosevelt, creating the first "Summer White House" and moved the executive office and staff here from Washington DC, for the summers of 1902-08.
So with lots to see and do, we took 'Merlin' (our dinghy) ashore and walked in the stifling heat to the village centre. We located the Oyster Bay historical society house museum in which we came across some interesting exhibits (see below). After that a tour of the Raynham Hall, which has preserved and presents the lives and times of the influential Townsend family and boasts an exceptional collection of archives and artefacts, with a particular emphasis on textiles and costumes.
A very enthusiastic guide showed us around the Oyster Bay historical society house museum
One of only a handful of Revolutionary War uniform coats worn by an Oyster Bay resident and an old movie camera!
The next day we all jumped into a taxi to Sagamore Hill to visit the home of the Theodore Roosevelt (TR). As a child Theodore Roosevelt and the family summered in the area and in 1885 he built his home, Sagamore Hill, 2 miles east of Oyster Bay village centre. For many people, TR was the most fascinating man ever to lead the nation. An appealing mix of high moral purpose and humorous enthusiasm for life, he was an irresistible subject for scholars and a popular press that often portrayed "Teddy" as more outlandish than his actions warranted.
National Park Service Rangers provide tours of the house so we waited in the shade for the tour to start. The Ranger started by listing all the does and don'ts, included no chewing gum, no photos (even without flash) and the list went on and on and on. Eventually we entered the house which was in darkness to protect the contents, but I must say one of the most interesting tours we've had. The heat took it's toll and as a result, the afternoon tours were all due to be cancelled. TR was a very interesting chap, who lived life very much to the full!
1858 - Born October 27 in New York City
1884 – Death of mother and first wife Alice, on same day. Became Cattle Rancher in Dakota Territory
1886 – Married Edith Kermit Carow
1889-95 – Member US Civil Service Commission
1895-97 – President Board of Police Commissioners of New York City
1897-98 – Assistant Secretary of the Navy
1898 – Colonel, 1st US Volunteer Cavalry Regiment in Spanish-American War
1898-1900 – Governor of New York
1900 – Vice President of the United States
1901-09 - President of the United States
1909-10 – African hunting and exploring expedition; toured Europe
1913-14 – South American expedition
1917-18 – Supported US role in WW1
1919 – Died in sleep Jan. 6 at Sagamore Hill
Theodore Roosevelt and looks like he was also a member of a masonic lodge in Oyster Bay
Built to Mr Roosevelt's specifications for $16,975 the house on Sagamore Hill was completed in 1885. It has 22 rooms, which were often filled in the years that
followed, since the growing family seemed always to be augmented by visiting friends and relatives, as well as dignitaries.
Waiting for the tour to commence,
This section of the porch with no railings served as a convenient platform for mounting horses and entering carriages
We were allowed to relax on the veranda after the tour
We walked across to the Georgian home converted to a museum, with exhibits and films portraying TR's political career and family life at Sagamore Hill
One day in August 1905 Roosevelt separately met envoys of warring Russia and Japan in the Sagamore Hill library and then brought them face-to-face. There they inaugurated the conference resulting in the September 5, 1905 Treaty of Portsmouth (New Hampshire) that ended the conflict and earned Teddy the Nobel Peace Prize.
Japanese dagger and sword presented to President Roosevelt by emperor Meiji of Japan in appreciation of his diplomatic efforts.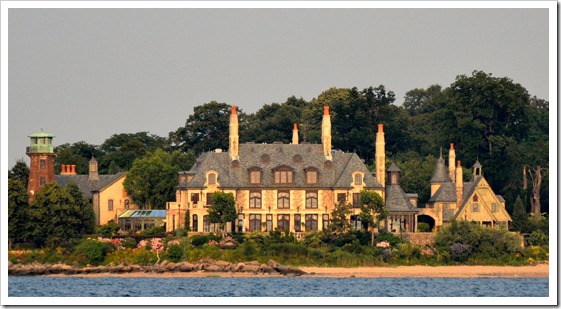 Leaving Oyster Bay, passing some of the magnificent houses. We also found out that Billy Joel (the singer) had a house here.
After a couple of days and a massive burger lunch in town, we left in a bit of a blow to return to Port Washington.
---