A visit to the US Naval Academy - Annapolis PART 1

Nimue
Sat 18 Jun 2011 14:45
We thoroughly enjoyed our visit to the US Naval Academy and were freely able to walk around it's 338 acres (known as the Yard) of tree-lined brick walks and view the French Renaissance and contemporary architecture and monuments commemorating the graduates and their contributions to US naval history.
Secretary of the Navy, George Bancroft established the Naval School at Fort Severn in Annapolis in 1845 with 50 students. In 1850 the School became the US Naval Academy and adopted the current 4 year curriculum. Now 4,500 men and women from every US state (including a few foreign students) attend the Academy each one nominated by Congressmen. In addition there are 600 faculty members giving a faculty student ratio of 8:1. Upon graduation 22 degree courses are offered for which commissions are received in the US Navy or Marine Corps and service is for at least 5 years.
Throughout years of growth and change, the basic mission of the Academy has remained unchanged:-
"To develop midshipmen morally, mentally and physically and to imbue them with the highest ideals of duty, honour and loyalty, in order to graduate leaders who are dedicated to a career of naval service and have potential for future development in mind and character to assume the highest responsibilities of command, citizenship and government".
Some notable accomplishments of Naval Academy Graduates -
President of the United States (1)
Chief of Naval Operations (27)
Members of Congress (22)
Astronauts (52)
Nobel Prize Winners (2)
Medal of Honour Recipients (73)
The interesting and well laid out museum contains a collection of more than 50,000 items, including ship models, paintings, prints and artefacts depicting American naval history and the history of the Academy. Michael felt it was 'en par' with the National Maritime Museum in Greenwich, London. During our visit we saw many trainees officers in the museum, who are encouraged to 'gem up' on naval history.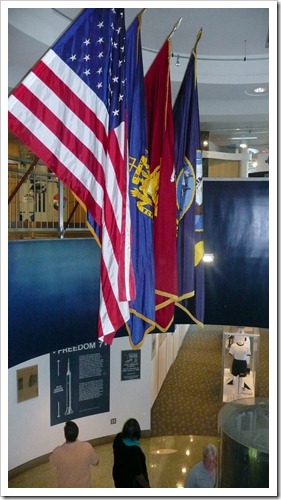 Entrance to the Naval Academy and not sure why I'm looking so serious!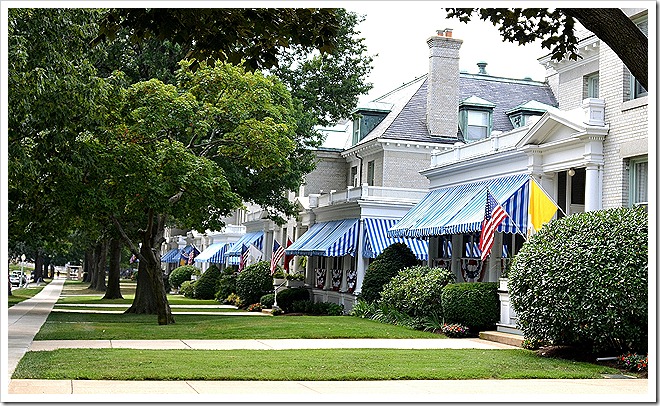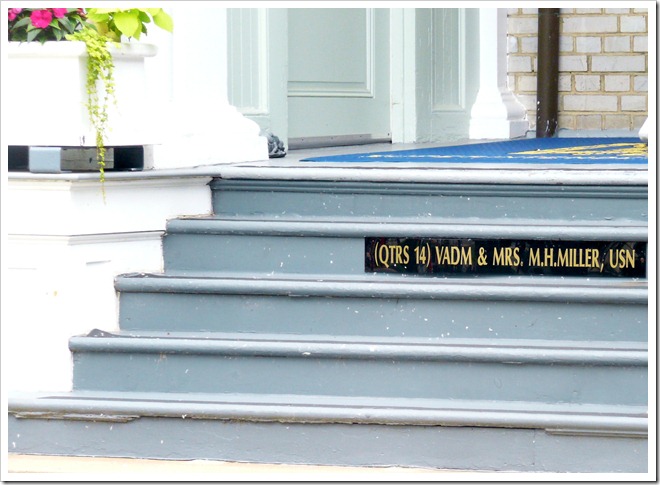 Quarters of higher ranking officers, with entrance steps labelled with current residents
Quarters of the Superintendent of the Naval Academy – wow !!
The Naval Academy Chapel is interdenominational and has a capacity for 2500. Inside the stained glass windows are quite beautiful and the window above the altar, Christ Walking upon the Water, was designed by Tiffany Studios
John Paul Jones, a naval hero from the Revolutionary War, is enshrined beneath the Chapel. His remains were brought to America in 1905 after 113 years in a Paris cemetery (see below).
Ship's Bell of the USS Enterprise and Michael standing in the Yard
See Part 11 for Plebe intake?
---