Magical Morocco

Nimue
Thu 4 Nov 2010 09:05
After the warm welcome received, we were keen to explore more of Morocco and learn about its culture.
Nimue was securely moored in the newly established Bou Regreg Marina, which is located in Sale across the main river from Rabat.

The marina is made up of 7 main pontoons, all with ramps leading out onto a wide promenade, which is patrolled 24/7 by security guards.

Anyone, other than boat owners are prohibited from walking near the pontoons and if someone happens to 'stray', the diligent security guard would continuously blew his whistle (which always made us jump) until the 'offender' moved away.

What

excellent security and the best we've seen so far.

We later found out that the King of Morocco owned one of the pontoons, on which he moored about 5 different types boat (fishing, luxury power yacht, small speed boat etc), so hence the reason for the high level of security and police presence.
Apart from speaking Arabic Moroccan, the other main language spoken is French, so each time we left the marina the security guard always said Bonjour, with a lovely smile.

I must admit after getting my head around Spanish, I then found it difficult to get my French hat back on, hence kept on mixing up my "Oui's" with "Si's".
Our first venture out of the marina complex was to the medina (old city, surrounded red brick ramparts) in Sale, a few minutes walk.

First of all we

needed to purchase some Moroccan Dirhams, and after receiving directions, we immediately got lost in the maze of narrow alleys and we soon started to realise what a medina is like.

Anyway we did eventually find the Societe Generale Bank, which handed out a few thousand Dirham (approx. MD130 = £10).
Sale is a quiet and traditional place, where time seems to have stood still.

Not for long though, as a massive project is underway to bring the city into the 21st century with a new tramway, new bridges and
a new
development with apartments and shopping malls.

One of the notable architects is Norman Foster, so the Moroccans are definitely out to impress!

Being in a Muslim country we did make the effort to dress appropriately, but still got stared at, as we were clearly tourists! The people are noticeably more conservative in Sale and the dress code a lot tighter than Rabat.
New development underway in Sale New Tramway development from Sale to Rabat
Feeling rather more adventureous, we headed across the bridge of the Oued Bou Regreg (river) and walked a few more kilometres into Rabat. Its walled medina was quite a contrast from Sale and is built on an orderly grid, lacking some of the atmosphere, but nevertheless is easy to walk around and with no aggressive selling.
The Kasbah (fortified quarters with all the necessities for living in case of a siege) occupies the oldest part of Rabat and commands magnificent views over the river to Sale and the Atlantic Ocean from its cliff-top perch.

The Kasbah is now predominately residential, with tranquil alleys and whitewashed houses and a very picturesque place to wander around.
View of the Kasbah in Rabat Exploring the picturesque blue and white alleyways of the Kasbah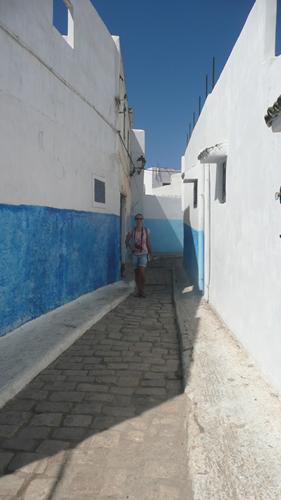 More pictures of the pretty Kasbah with its blue and white painted walls
View on a calm day showing the narrow entrance into Rabat and the threatening breakwaters.
The waves here break in any kind
of swell,
so can be potentially dangerous. On these occasions the entrance is shut and no yachts are allowed in or out!
Views across to Sale
Rabat's most famous landmark, the towering 'Le Tour Hassan was absolutely stunning!

The 44m tall minaret was supposed to be 60m tall and the mosque the second largest of its time, but the Sultan died before it was finished.

The mosque was destroyed by an earthquake in 1755, and all that remains is a forest of shattered pillars, which testifies to his grand plans.

Near the tower stands the marble Mausoleum of Mohammed V and is built in traditional Moroccan style and is elaborately decorated.

The present king's father and grandfather have been laid to rest here and we were able go into a galleried area and look down into the tomb.
View of the Mausoleum of Mohammed V and Tour Hassan
The 44m tall minaret and the shattered pillars of the Mosque
The entrance to Mausoleum of Mohammed
The tomb of the King's grandfather being continually watched over and the ornate decoration of the Mausoluem
View from the Mauseleum Marina development across river Bouregreg
Within a couple of days of arriving in the marina, we had struck up a good rapport with another 2 yachts, also crossing the Atlantic; 'Otra Vida' (Martin & Silvy and Wendy) and 'Viskus' (Rene & Paulien).

In fact, we joined up over the next few evenings sampling each other's culinary delights.
(from left to right) Silvy, Wendy, Martin, Paulien and Rene. Michael and I enjoying a local Hungarian dish, Silvy made - yum yum
Endulging in a street side eatery in the Rabat medina. Cooked fresh to order and extremely good value!
One day, whilst the 'men' went in search of purchasing beer and wine in Rabat (not an easy task, as Morocco is a Muslim country!), the girls went window shopping in Sale.

As we wandered through the alleyways of the Sale medina, we came across a shoemaker in his little workroom.

He handmade shoes mostly out of raffia and leather, so naturally we all couldn't resist placing an order, which the shoemaker promised to complete within a couple of days and very cheap too!
Anne placing an order for shoes with the shoemaker
Rene off Viskus doing abit of hairdressing on Wendy (Otra Vida). Note the stool, which Anne handmade at night school. Knew it was worth taking!
One of the other reasons for going to Rabat, is that it has an excellent train service to Marrakech, a place we had so much wanted to visit and hopefully this time of year, a little cooler than 40 degrees Celsius! Watch out for the next blog from Marrakech..................
---