Cascais to Sines 27th - 30th August

Nimue
Sat 30 Aug 2008 13:52
Leaving Cascais Arriving Sines at dusk
We sailed virtually the whole 55 mile leg to Sines to arrive there at dusk and we found a really good anchorage just 100 metres from the beach. Sines is a good stopping point before going round Cape St Vincent and into the Algarve and is located in one of the most preserved regions of the European coast, protected by the Forest Reserve of the Southwestern coast.
The navigator Vasco da Gama was born in Sines and it was the county of Sines that he wanted as a reward for his discovery of the Maritime Way to India to the end of his life.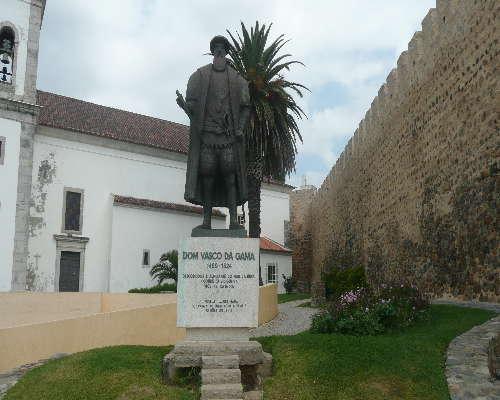 The famous Vasco da Gama
Sines still has is prevalent fishing industry and one which continues to employ hundreds of men. The bay was used continuously by the colourful fishing fleet during our 3 nights stay and I also sampled my first gillled sardine dish whilst we were here...they were great!!
View of the bay from the stern of Nimue Nimue in the bay (yacht in middle)
Fishing boat leaving Excellent coffee and croissants here
One significant observation about the bay was the hundreds of grey mullet, and you could even hear them 'kissing' the edge of the boat, but unfortunately not a fish to be eaten!!
Next stop Lagos
---