BVI's - Jost Van Dyke and the Easter Sunday Service

Nimue
Tue 26 Apr 2011 02:43
Ashore in Great Harbour, Jost Van Dyke (Foxy's in the background)
The name of Jost Van Dyke originated from a Dutch pirate, but became English speaking in the 18th century when the small island became a homestead for Quakers escaping religious tyranny in England. Today there are fewer than 200 inhabitants on the island and tourism, especially 'yachties' has become the island's main source of income.
Jost (pronounced 'Joast') Van Dyke is only 4 sq miles and is pretty under developed. There is no proper road system and the Main Street in Great Harbour is just a track on the beach. One of the locals says 'When Main Street is still a beach, you know life is good'. Jost has a good time reputation and a lot of this is due to Foxy Callwood, born in 1938 and known as the island's main man. In the late 1960's, boaters found Jost's unspoilt shores and Foxy built a beach bar to greet them. Foxy's Bar is known for miles around and locals and visitors come from all around to enjoy the live music and great BBQ's.
Being Easter week-end, we decided to anchor in the less crowded Great Harbour, a lovely moon shaped bay. We had by-passed White Bay, just around the corner, but took the dinghy round instead to locate our friends on yachts 'Let it Be', 'Scott Free' and 'Highland Fling'. White Bay is infamous for the Soggy Dollar Bar, which takes is name from the sailors swimming ashore to spend wet bills and it is also the bar that created the Painkiller cocktail. We all went ashore to sample one or two, but thought the ones on Saba Rock's (Virgin Gorda) were far better!
A local shop on Main Street, Great Harbour, JVD
'Painkillers' outside the Soggy Dollar Bar in White Bay, JVD
The following day all 3 yachts motored round from White Bay and 2 other couples on Caduceous and Rainmaker also joined us in Great Harbour. We all went ashore for a really excellent BBQ at Foxy's in the evening and the next day most of us attended the Easter Sunday Service at the small church on Main Street! We were all made to feel so welcome and very much enjoyed the service. Folk seemed to appear and disappear throughout and misbehaved and noisy children were appropriately dealt with outside! All the hymns were accompanied by a pianist and also there was a little boy, no more than 7 years of age, playing the drums. He played like a real professional and a gem to watch! We all signed the visitors book as it was passed round and were each given a pencil on departure.
Arriving all appropriately attired for the Easter Sunday Church Service
The small but quaint church, next to the beach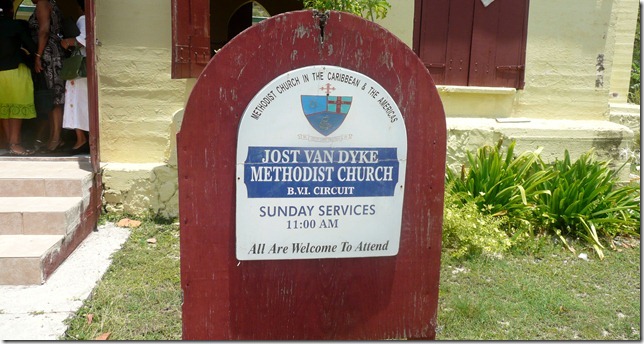 This little chap played so excellently on the drums
Part of the service, with preacher Bro. Charles Wheatley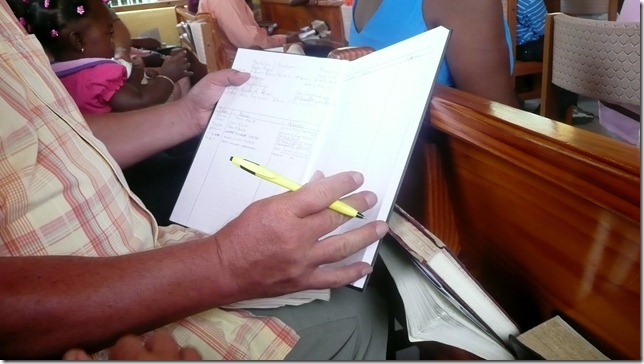 Michael signing the Visitors book All smiles............
Sheila off 'Let it Be' had suggested it would be a good idea to have a BBQ, so Cane Garden Bay in Tortola, was our next destination in the BVI's. After some excellently prepared BBQ food, Michael and I thought it would be a good idea to introduce our friends to a really good party game; Baby Tossing (basically balloons filled with water, which have to be tossed and caught by their partner). This proved a great hit and we ended up playing a couple of games, before the sand flies and mosquitoes closed proceedings for the day.
On your marks............. Get ready! Throw!
"The gang" – on the beach in Cane Garden Bay
The nearest place to clear out was Jost Van Dyke, so us and Scott Free sailed back there the next day and headed for Customs and Immigration. However, we were shocked that we were only required to pay one US Dollar (we were expecting to pay around $80, but we weren't complaining).
Checking out at the Customs and Immigration office at Jost Van Dyke
---