Porto Pollensa and Michaels left foot - 24-29 June 2009.

Nimue
Mon 29 Jun 2009 14:06
Michael had been complaining about a pain in his left foot whilst we were in Porto Colom, but at that time believed he had bashed his little toe, or something similar. Anyway, a few days later when we reached Cala Es Calo, his foot was looking rather red and angry. However, after placing an ice pack on it, the swelling and pain seemed to ease. No real change the following morning, so we decided to head towards Alcudia, but as we were nearing the anchorage, the weather started to deteriorate, with thunder and lightening nearby, so we aborted going this trip and headed for Porto Pollensa instead. The storm did eventually pass over us, as we motored around into Pollensa bay and we had a stop over for lunch in Cala Formentor, renowned for it's clear blue seas and exclusivity.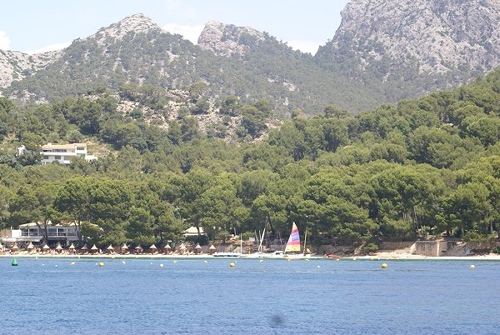 Cala Formentor, renowned for it's clear blue seas and 'super yachts'
Later on we headed further into Pollensa bay, which is quite shallow, but found a very good anchorage about 200 metres from the port.
By then Michael's foot was not looking any better, so no sooner had we landed ashore in the dinghy, when we came across a private Medical Centre. Although we would have to pay for a private consultation, Michael's foot by this time, was becoming painful and more inflamed, so there was no question that he needed to be seen. Good job too, as the doctor advised the swelling was due to a bacterial infection and he needed to take a course of strong antibiotics + painkillers + anti-histamines. The doctor also advised Michael to rest his foot for at least 2 days, so that meant we weren't going anywhere!
The offending swollen 'left' foot
With Michael spending the next couple of days resting, reading books and being waited upon, there was a significant improvement in the appearance of his foot. A further examination by the doctor, confirmed that the infection was getting better, although it did take a good week for it to get back to looking totally normal! Polensa Bay is also home to one of the Sea Planes, which are generally used to 'dowse' shrub and forest fires. We were on Nimue when it was called to duty and below are a few pictures of it's taking off and landing.
Take off.........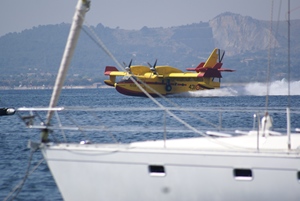 Landing!
Alan and Ann on Sula Mac were also in Pollensa at this time, as they were meeting up with their friends (Roz, Dave and Shona), who had booked a week's holiday in an apartment overlooking the port. We were invited to join them on several occasions for meals and I was in 'seventh heaven' when I was told I could use the washing machine in their apartment!
Views taken of Polensa Bay from Sula Mac's friends' apartment
All out for dinner !!
Luxury item – washing machine. Although some boats have washing machines on board, they do take a lot of space and water and some consider them a luxury. Nimue does not have one, so, when at anchor, hand-washing suffices for most occasions. I've even got a mangle to wring out articles of clothing, so I consider myself quite fortunate. However, the opportunity of a washing machine brought a smile to my face and I was off like a flash.
After nearly a week in Pollensa, it was time for Sula Mac and Nimue to say "adios" to Majorca and "ola" to Menorca.
Pretty Pollensa Bay taken from the dinghy



__________ Information from ESET NOD32 Antivirus, version of virus signature database 4212 (20090703) __________

The message was checked by ESET NOD32 Antivirus.

http://www.eset.com


__________ Information from ESET NOD32 Antivirus, version of virus signature database 4212 (20090703) __________

The message was checked by ESET NOD32 Antivirus.

http://www.eset.com

---