Anguilla - 10-12 April 2011

Nimue
Tue 12 Apr 2011 23:55
After a 17nm sail from Simpson Bay we dropped anchor in the pretty anchorage of Road Bay, Anguilla, the last Leeward Island before the Virgins. Closely followed by Sea Otter, we all went ashore to clear in and were aware that Road Bay was the only part of Anguilla we could stay without incurring hefty anchorage and cruising permit charges (approx. £50 per day for both!). As it was a Sunday, the local children were swimming in the sea and took every opportunity to climb over all the docked dinghies. We didn't mind, apart from all the sand they left!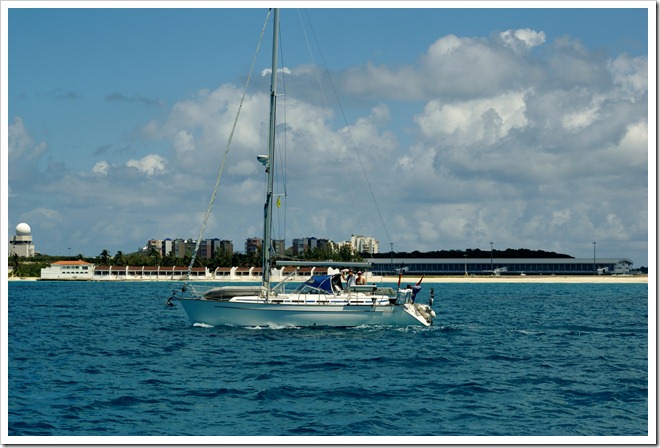 Sea Otter leaving Sint Maarten with Juliana airport in the background
Local's; sailboat racing
Clearing in at the pale blue Customs and Immigration offices
Road Bay anchorage
After a rebellion by the Anguillans in the late 1960's to fight against decolonisation, they eventually got what they wanted and became a British Dependent Territory in 1980.
Since the 1980's, tourism has become Anguilla's economic mainstay, with big money moving in to make this an exclusive tourist location.
Apart from it's fine sandy long beaches, Road Bay is best known for it's excellent variety of restaurants. After a sun downer at Roy's Bayside Grill, we decided it was rather too expensive to eat there, so went off the beaten track to atmospheric 'The Pump House'. Built in the old salt workhouse, with all the old machinery used for grinding up the salt!
Just liked the sign!
The Pumphouse, built in the old salthouse and tasty menu
Road Bay with it's long sandy beach
A view of the anchorage; the boy in the foreground learning sailing techniques with toy sailboats
Michael and Jonas getting into Merlin our dinghy
The local supermarket had very few supplies, but I did purchase a large bottle of vanilla essence costing only about £2. The lady who served me was most accommodating in exchanging some of my East Caribbean for US dollars, which are not accepted outside the Caribbean.
Well after several 'good-byes' with Sea Otter, it was finally time to go our separate ways; Sea Otter back to Antigua to be hauled out for the summer and we were moving onto the British Virgin Islands (BVI's). We thoroughly enjoyed spending time with Jonas and Heather and hope to see them again (and Stormy) when Nimue reaches Vancouver!
Bon Voyage Sea Otter
Stormy taking a last look at Nimue!
---