Finally leaving Guadeloupe and arriving in Antigua

Nimue
Wed 2 Mar 2011 22:13
With a good weather window approaching in the next few days for the crossing to Antigua, we departed Les Saintes bound for Deshaies on the north west coast of Guadeloupe. We encountered a lively crossing from Les Saintes to the mainland and then hit typical wind holes up to our anchorage for the night in Anse a la Barque. Jonas and Heather on Sea Otter joined us in this tranquil anchorage, but we were all rather disappointed that the sea was too murky to do any decent snorkelling. Anyway at least we could jump in and cool off. This was a good opportunity to entertain Jonas and Heather with my Paella, which they said was one of the best they've had! Thanks very much J&H.
Leaving Les Saintes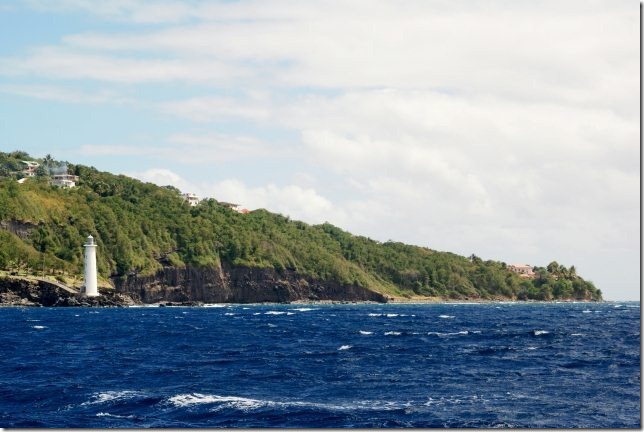 Approaching the West coast of Guadeloupe and Vieux Fort lighthouse
Approaching Basse Terre and the mighty La Soufriere volcano clearly visible
One of the many splendid graveyards seen in Guadeloupe
Watching Sea Otter anchoring at Anse a la Barque
A fairly early start the next day, as we wanted to anchor for lunch around Pigeon Island, which Jacques Cousteau brought to international attention a few decades ago by declaring it to be one of the world's top dive sites. The waters surrounding the island are now protected as the Reserve Cousteau, an underwater park. In fact there is an underwater statue of Mr Cousteau and divers who touch the statue's head are supposed to have good luck and good diving for the rest of their underwater lives. Anyway by the time we arrived, it was overcast and raining, so we gave it a miss and headed straight for Deshaies. As we got closer to the anchorage the wind was blowing 'old boots' in a northerly direction. We were both hoping this would change to a more easterly direction in the morning, as was forecast. The anchorage was really busy with boats waiting for the same weather window. In fact we noticed Scott Free anchored a couple of hundred metres away from us and it turned out they too were heading off to Antigua the following morning.
Heading for Pigeon Island
Tourist/Dive boats outside the Jacques Cousteau Reserve dive site
Up a dawn the next day and ready for departure at first light. Nimue, along with a multitude of boats, including Scott Free set sail into a grey, miserable morning. With 2 reefs in the sails we were making good progress to English Harbour, Antigua. Scott Free were slightly off the wind to us and were making towards Jolly Harbour. Anyway as we clocked up the miles, the weather remained grey and dismal and Michael and I both questioned each other as to whether we were actually in the Caribbean, as it felt more like the English Channel! On contacting Scott Free on the VHF, they too had the same thoughts and like us they were all togged up in wet weather gear. Half way across and the wind just died, so it was quite funny to see all the yachts near us pull in their headsails and motor for the remainder of the crossing.
Steve at the helm of Scott Free
And there is Chris too!
Scott Free looking good under sail (of course she's a Contest)
Splosh!
That was a big one!
Could it be the English Channel, no this really is the Caribbean?
!
Michael and I all dressed up – a novelty!
Michael hoisting the Antiguan courtesy flag and our first views of English Harbour
On arriving at English Harbour, it initially looked really busy, but as we 'poked our nose' in we saw a couple of good anchorage spots in Freemans Bay. This was a perfect location and Michael was thrilled to be next to Nelsons Dockyard. To top it all the sun came out, so all was good for our first time in Antigua.
---