Alone in Menorca - 9th - 19th July

Nimue
Sun 19 Jul 2009 16:39


It did seem very strange awaking on the morning of 9th July 2009, knowing that our friends Alan and Ann on Sula Mac had already been at sea for almost 3 hours on their 200nm passage to Sardinia. We knew that they would have a fairly lively journey as when we came out of Mahon the seas were quite lumpy and the wind again was heading us.

As we were running short of water, this was a good opportunity for Michael to run the on board 'water maker'. It also gave us the chance to test the system out, as we had not run it 'in anger' before. Anyway the 'lumpy' conditions weren't really ideal to do such an exercise, but it had to be done! I was helming trying to keep Nimue steady, whilst Michael's head was in the engine compartment setting everything up. The next thing I saw was a very wet Michael, as he realised that he had turned the salt water outlet off by mistake, leading to one of the water hoses blowing out! No harm done, but we still required water, which we eventually managed to get hold of in Fornells, our next anchorage 20nm up the coast from Mahon (water cost = €5.20).
Narrow entrance into Fornells Guess who?
We tied up to one of the managed Isles de Balaerics Port Authority buoys and the next day as I tried to hang out the washing, I was thwarted by something called 'rain'. This was the first rain we had seen for nearly 2 months, which good for washing the decks down, but not for drying washing!
Fornells (pronounced Fornays) claim to historic fame comes from having been used as one of the secondary invasion ports during the first British expedition of 1798. They had intended to land at Fornells, but a headwind prevented this, so the first landing took place at Addaya (see below for our visit). When the wind changed the following day, Commodore Duckworth captured Fornells. This ancient fishing village is set in a beautiful area and ha s a spectacular natural harbour.
Most of the surroundings are of unspoilt natural beauty and development is restricted. The village is small and picturesque and is also a fairly exclusive holiday resort.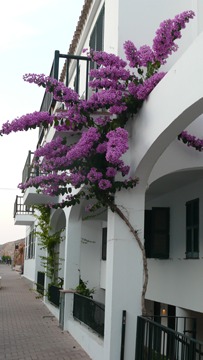 The charming/picturesque village (all buildings are white)
Lovely large uncrowded anchorage
Typical Menorcan boat (shown here in an art display)
Views of Fornells from the sea and La Mola in the distance
Usually in the summer you are only allowed to spend 2 nights on the buoys, but as they clearly weren't that busy, we were allowed to spend an additional night on the buoy and we used this time to visit one of the nearby towns by bus called Es Mercadel. Whilst sitting having coffee in a local cafe there, we met Sven, the Swede, who had moved from England nearly 15 years ago and he advised us to go the Cala Pregonda, a lovely small cala on the north coast, which he said "looked like a moonscape".
Our 3 days were up, but the weather didn't look conducive to being on the north coast, so we decided to head back down the east coast to a recommended anchorage in Addaya. However, after navigating a fairly tricky entrance, we found there was no room to anchor, so out we came and headed further down the coast to another anchorage in the Islas Coloms. This seemed much better and we were soon settled for the night to one of the newly laid buoys in Cala Tamalells.
This cala was an absolute delight, as the water was clear, the beach was near and the little town of Es Grau was unobtrusive and quite quaint. We both really enjoyed this cala and would have stayed longer, but we had run out of food and the weather forecast for the coming week-end was not suitable for us to stay there any longer. So back to Mahon.
Cala Tamalells with Es Grau in the distance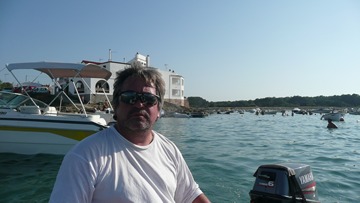 Dinghy ride into Es Grau and coffee ashore
Es Grau shoreline



__________ Information from ESET NOD32 Antivirus, version of virus signature database 4292 (20090730) __________

The message was checked by ESET NOD32 Antivirus.

http://www.eset.com


__________ Information from ESET NOD32 Antivirus, version of virus signature database 4292 (20090730) __________

The message was checked by ESET NOD32 Antivirus.

http://www.eset.com


__________ Information from ESET NOD32 Antivirus, version of virus signature database 4299 (20090802) __________

The message was checked by ESET NOD32 Antivirus.

http://www.eset.com

---