New Year in Bequia,

Nimue
Sun 9 Jan 2011 19:20
Having enjoyed our R&R in Barbados, it was time to meet up with our friends 'Pepe' and 'Bear' on Beez Neez for New Year in Bequia. We originally met each other whilst sailing down the Portuguese coast in 2008, but whilst we headed into the Med; Beez Neez sailed across to the Caribbean.
With 20-25 knots of easterly wind, we left Barbados and 'goose winged' sailed west towards Bequia. Within a few hours we were making such good progress, that we had to slow down to avoid making an entrance in the dark. We covered 100nm in 12 hours and Nimue performed like a real star; if only we had these winds crossing the Atlantic!
Around dawn, we arrived into the lovely, but busy anchorage and saw a suitable spot to anchor just a few metres away from Beez Neez. 'Bear' must have heard the anchor chain drop and once we had put Nimue 'to bed' the delighted pair came over to officially welcome us to the Caribbean and invite us for dinner onboard Beez Neez to celebrate New Years Eve. By the way the Caribbean's call this Old Year Night, which is probably more apt?
It was fabulous evening and we were also joined by an American couple, Rick and Lucy off Flying Cloud and the Australian/Frenchman, Francois off Equa Regis. 'Pepe' had 'gone to town' and cooked a proper turkey dinner with all the trimmings. Unfortunately, we were plagued by the first of many rain storms, although more on this subject later.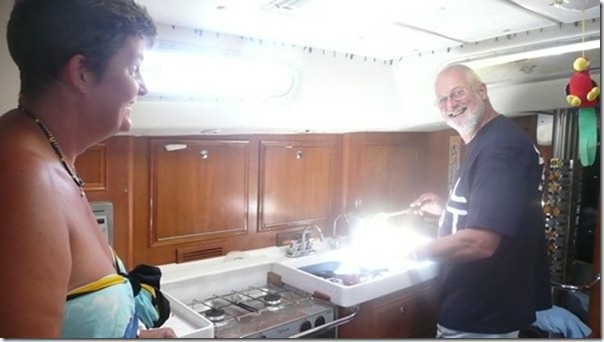 Pepe and Bear preparing turkey dinner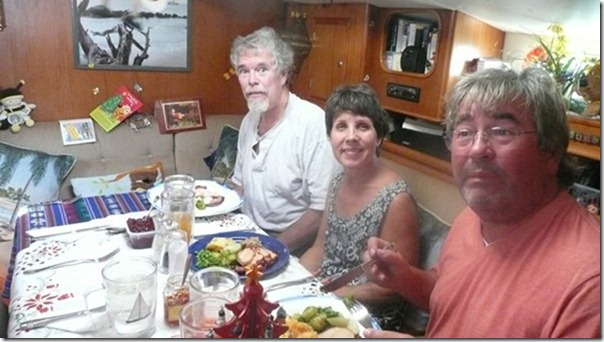 Rick, Lucy & Michael tucking into the turkey!
We had previously visited the Windward Islands and the Grenadines on a yacht charter back in 2000, so had taken in most of the sights of Bequia. The one thing that hadn't changed was the cost of fruit and veg. frightenly expensive! We were delighted to receive a VHF call from Martin off Otra Vida, the yacht moored next to us in Rabat, Morocco, so we all met up and went ashore to Coco's for a typical Creole style buffet lunch and rum punches.
Lovely Bequia anchorage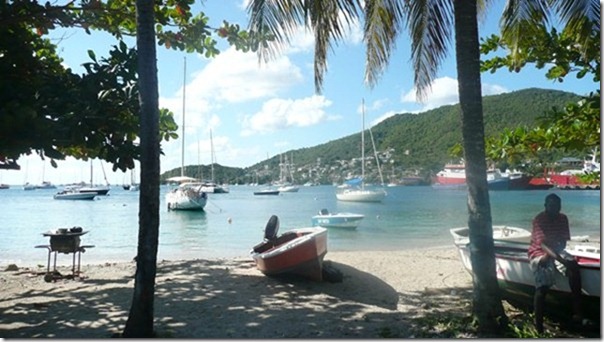 Walking in Bequia
Christmas tree – how twee!
All enjoying rum punch in a bar near the anchorage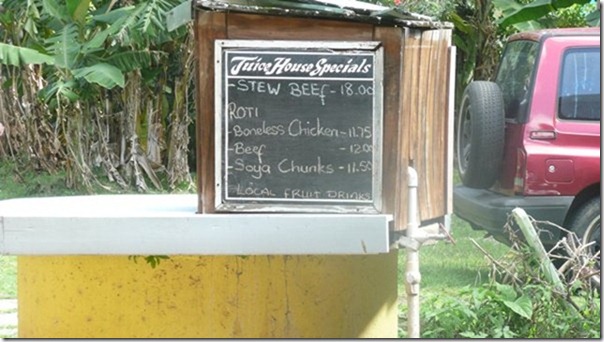 We had the boneless chicken roti – spicy chicken and potato in a large wrap
The strong winds produced a large incoming swell into the anchorage, which started to become a real nuisance and life on board was similar to being on an ocean passage; very rolley and uncomfortable. However with Nimue well anchored we stayed put and rode it out until after 5 days we'd had enough and set off to Rodney Bay in St Lucia.
---