Nov 2012 - Jonas & Heather - Civil War in Fredricksburg, VA

Nimue
Sat 24 Nov 2012 21:34
With our growing knowledge of both Revolutionary and Civil wars and Jonas's interest in battle sites and canons (the firing ones!), we took a trip to Fredericksburg and the Battlefield site.
Arrival at the Fredericksburg Battle site visitors centre
This park historian was very well versed in this civil war site and gave us an excellent insight into the Battle of Fredericksburg (1862), focusing on the 'Sunken Road' and the 'Stone Wall'
Lee's Confederates were victorious, the town was devastated and Burnside's Union Army devastated.
The Fredericksburg Confederate Cemetery, where 1000's of casualties are buried.
Heavy combat took place here at The Sunken Road, where the stone wall has been reconstructed.
Using a tour CD in the car about the battle sites, it took us to the Rappahannock River,
which was crossed by Unions using pontoon bridges
Chatham Manor overlooking the Rappahannock River served as Union Headquarters and a hospital for 14 months
Into Fredericksburg town for lunch.
Came across this very autumn look in Fredricksburg with the statutory pumpkins and the beautiful rustic trees
Jonas inspecting one of the canons, whilst Heather shows slightly less interest!
On 'Dead Horse Hill'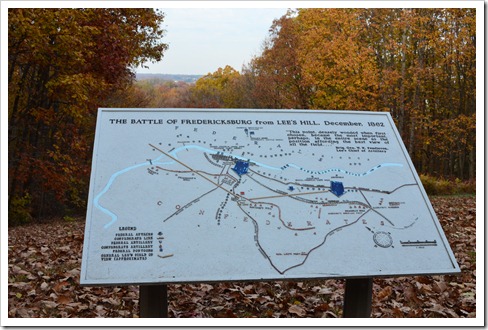 En route up to Lee's Hill (also called Telegraph Hill) From here Gen. Robert E Lee watched the Battle of Fredericksburg unfold.
As ever, pictures featuring another canon
...............and another ..............................and another!
---