18th - 21st April 2013 - Cat Island, The Bahamas

Nimue
Sun 21 Apr 2013 12:37
Having had a lively 42nm sail from Conception to Cat Island in 15 knots of south easterly wind, we were just approaching The Bight at Cat Island when the trolling line tightened? Hoping it was one of our favourite catches, Mahi Mahi; we were disappointed to see a Barracuda. He wasn't too happy either and after lots of protesting, managed to release himself from the lure! With that little excitement, it was back to the sailing and trying to find a suitable anchoring spot in Old Bight with Motu and Blue Yonder. It was a large bay and hardly any other boats, so we did our usual checks to ensure the anchor was in and retired for the night.
Cat Island, Bahamas. Anchorage in Old Bight, is in the Bay (right).
An early morning start the following day as all six of us met ashore as we were being taken to Gilbert's Car Rental located at New Bight. Our hire car was large enough for all of us and Michael was volunteered to do the driving. We hired the car for one day, so we wanted to make the most of Cat Island. Named after the pirate Arthur Catt, this fishhook shaped island is only 48 miles long and 4 miles across at the widest part.
Other notable facts about Cat Island, include; the existence of cotton plantations, the ruins of which are scattered around the Islands and signs of the slave trade, with the remains of slave huts dating back to the 1700s. Last but not least; South Bight was home to the Academy Award winner actor Sir Sidney Poiter.
A visit to Arthur's Town and meeting up with schoolgirls outside St Andrew's Anglican/Episcopal Church
A walk around Arthur's Town and we came across the local Police Station.........ughhh!
.........and lovely views of the scenery. Back into the hire car...............................
...........and off to lunch at Shannas Cove overlooking a magnificent bay in the North Cat Island.
In the Port Howe area of Cat Island are the ruins of 18th-century Deveaux Plantation and Mansion. In it's glory days, it was given to Colonel Andrew Deveaux in 1783 for protecting Nassau from Spanish invasion and occupation.
David and Marti at Hawks Nest Resort and Marina on the southern tip of the Island. It has it's own private airstrip and it's marina is widely used when top dollar fishing boats come to catch the abundance of fish.
Nearing the end of the day, we made the effort to climb Mount Alvernia, which is the highest elevation in the country at 206 feet above sea level. The hill served as the hermitage of Father Jerome Hawes, who settled on the island in 1939, where he built a miniature monastery and hand-carved steps out of solid rock.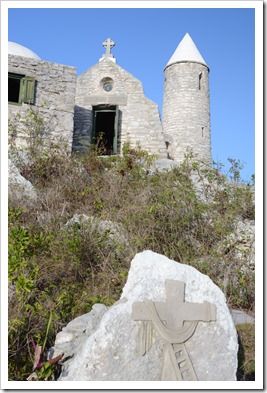 A very fascinating place to visit with great views
Cat Island also prides itself on producing The Bahamas finest rake 'n scrape music and holds an annual festival dedicated to it.
A long day out made even longer as we were approaching Nimue in our dinghy, Merlin. I noticed a rope/rode from Nimue's bow, whereas we had left her earlier in the day with chain? To cut a long story short, Nimue had dragged her anchor whilst we were away, and Mark and Kathy off a catamaran, Carina had rescued Nimue and re-anchored her using their own rode and anchor. It was a bit of a shock, but we later found out the ground was hard sand and gravel and our as much as we had thought our Bruce anchor was dug in, it wasn't! C'est la vie!.
---