13th - 28th May 2013 - To Norfolk on the ICW....again!

Nimue
Tue 28 May 2013 01:32
With an unforgiving forecast, we had little chance of rounding Cape Hatteras, so this was to be our 5th time navigating the ICW from Beaufort to Norfolk. Accompanied by Blue Yonder we departed for the first leg to Oriental, where the OCC port officers, Dee & Don, had kindly sorted out a slip for us (albeit very shallow for Nimue). One of our favourite towns, we couldn't resist stopping for a day and by chance it turned out to be very beneficial:- by now we had become very dissatisfied with our new 8ft AB dinghy, as it wasn't giving the expected smooth ride and we still were getting very wet in lumpy waters. We had no joy with complaining to the manufacturer, so had resigned ourselves to purchase a new 9ft AB dinghy, which we knew we liked, as we had tested one out in the Bahamas. As it happened the local chandler in Oriental, also an AB dealer, had one in stock and at a special boat show price! So we jumped at the chance and bought it straightaway, so we were now the proud owners of 2 dinghies (we later sold our 8ft on Craig's list – a sort of local e-bay).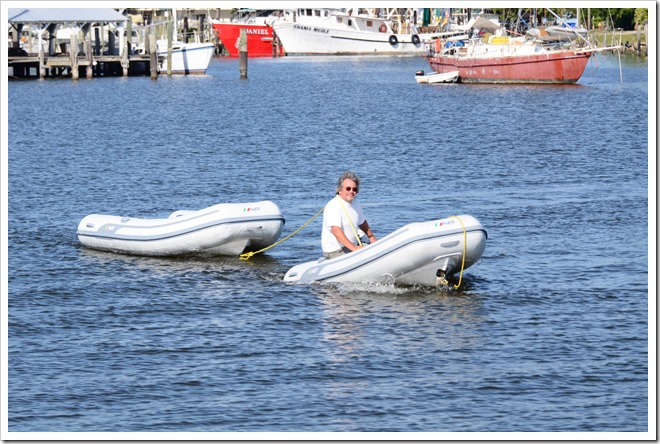 Michael in little Merlin, towing the new, bigger Merlin
After leaving Oriental we had 3 longs days negotiating the ICW, but managed to find good anchoring spots each night. Once we had reached Great Bridge, it was only a relatively short hop to Gary & Greta's in Norfolk.
Nimue, (the tallest mast) outside Gary & Greta's condo in Norfolk
A boat trip to see the US Naval Base in Norfolk. Joined by Scott & Kitty off Tamure and David off Blue Yonder
A few US Navy warships located in their base on the Elizabeth River, Norfolk.
A very informative trip telling us all about the various types of Navy ships and a last look at the first nuclear aircraft carrier, Enterprise, which was being de-commissioned.
---