17th - 21st Mar 2013 - Black Point, Exumas, The Bahamas

Nimue
Thu 21 Mar 2013 17:19
Obtaining regular weather updates are essential for cruising the Bahamas. We regularly downloaded GRIB files from various sources to our iPad, but also listened to Chris Parker (a weather 'guru') at 0630 each morning, apart from Sundays, on the Single Side Band (SSB) radio on 4045hrz. Chris provided detailed forecasts for the Bahamas, which included the likelihood of regular fronts passing through the islands. Propagation levels (e.g.reception) were good early in the morning, but admit we often fell back to sleep as Chris's voice seemed to drone on and on and on.........! One front did go through whilst we were anchored in Staniel Cay, which clocked through quite quickly, from the south, to the north and then back to the prevailing SE'lies. Passing fronts are not usually a time to take a ride ashore, so it was just a case of riding them!
We departed, before the next front, for Black Point, 8 miles further south and the 2nd largest town in the Exumas. It is renown for it's excellent laundry ($3.50 for wash), where all cruisers end up meeting and discussing 'the world'. As we were there for St Patrick's day, we all booked an 'all you can eat' buffet at Lorraine's Cafe & Restaurant and the food included conch fitters, as appetisers and a main meal of BBQ'd ribs, chicken, roast beef, macaroni cheese, pizza and followed by 'green' cake! Everyone was very hospitable and Lorraine worked very hard to ensure everyone enjoyed themselves. Before we all retired for the night, we nipped into the 'Two B's' bar, which was a just a white clad building! Lorraine is also famous for her home-made bread and after tasting some we could all see why! The locals are really friendly people and always made the effort to say "hello", but they did lack some essential everyday items, so our offer of pencils for their Sunday School were gratefully received.
Lorraine welcoming everyone to her restaurant for the St. Patrick's day buffet meal
All showing off our seaglass earings, kindly made for us girls by Marja (Moto)
Michael coming out of the launderette
The white clad Two B's Bar
Word was getting around that petrol was getting scarce, so cruisers were getting concerned about running their dinghies ashore. Fortunately for us, we had filled up in Nassau, so were able to give a couple of gallons to Val & Lisa, who were running short.
We spent a couple of nice days with a lovely Canadian couple (Steve & Jane), who had rented a little house on the beach for a couple of weeks in order to get away from the cold and snow of northern Canada! We managed to walk around and went to the blow hole and Dotham cut.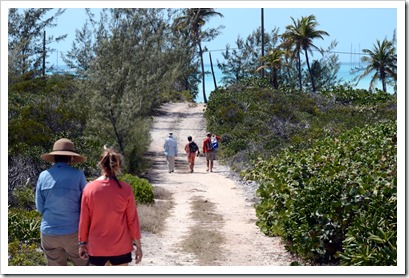 The dinghy dock at Black Point Walking to Dotham cut
The Exuma Sound (on the other side of the island)
After the walk Overlooking the anchorage at Black Point
With another front scheduled, we sailed back up to Staniel Cay, but this time negotiated the narrow channel past the town dock and up to the anchorage between Big & Little Majors. This was a delightful secluded spot with clear crystal blue water. We were fascinated by the number of large star fish surrounding Nimue on the seabed. It was in the anchorage that we had arranged to meet up with David on Blue Yonder (another Valiant owner) and the following day we all headed off in the dinghies so we could drift snorkel off Fowl Cay. A first for me and entailed staying with the dinghy as the current just drifts you along. Very interesting, the best part, sighting a large sting ray drifting underneath us!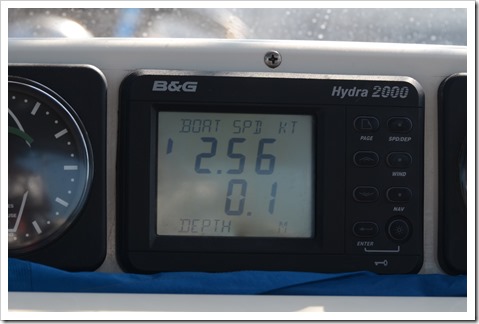 The depth sounder and the forward looking sonar showing just how shallow the water was as we made a slow pass to the
anchorage between Big & Little Majors
Making our way to the anchorage
---