Solomons, repairs in Deltaville & on to Norfolk - 8 - 11th Nov 2011

Nimue
Fri 11 Nov 2011 20:59
We carefully negotiated our way into the anchorage behind James Point in the Solomons and it was good to see that Loon was already anchored. We jumped into Merlin and picked up Kenny on the way and were met at the jetty by Joe. He drove us to his house nearby, where his wife, Caley had been busy preparing a meal for us all (an assortment of lovely kebabs cooked on Joe's handmade BBQ (of course). Then we were shown around the 4 storey barn, which Joe took years to build and was absolutely enormous.
We woke up to a very foggy morning, but left as it was clearing. As we pulled up the anchor, which was covered in the usual thick dark mud of the Chesapeake, it was quite exciting to be able to wash it off using the new deck wash, which Michael had installed in Herrington (I know..... but it's all the small things that count).
An uneventful 55 Nm motor sail down to Broad Creek in Deltaville. Unfortunately we arrived at low water and although we managed to negotiate the entrance channel and just a stones throw from Zimmermans dock, it was just too shallow for Nimue to move any further. There was no other option, but to turn around and head back out and we anchored just outside the channel for the night. We woke up to another foggy morning and again felt our way into Broad Creek, having all of 0.7m of water above CD (chart datum)!
As soon as we tied up at Zimmermans dock, Michael got to work stripping out the broken generator exhaust system. Zimmermans had promised the ordered part we needed would be there on time and true to their word it was (this is quite a remarkable feat in the marine world)! Within a couple of days, the new system was fitted and all was looking good, so we checked out the weather to depart for Norfolk. We departed on the tail end of tropical storm Sean and knew the first couple of miles to Stingray point would be the worst, as we headed into strong W/NW winds. Once we turned South, although still blowing 25/30 knots, the winds were aft, making a more comfortable ride. With nearly a 7 knot average we sped down to Norfolk, but then hit the opposing current as we headed down the Elizabeth river to our OCC mooring in Norfolk. It was dark when we arrived and a tricky mooring, so it was good to have our lines taken by Steve & Chris (Scott Free). We were welcomed by our hosts Gary and Greta, but we also delighted to see our friends, Tony and Christine Diment (they ran the Biscay Triangle, in which we participated in 2004).
Gary & Greta's apartment (bottom left, right building) and it was good to see the 'girls' together again (Nimue & Scott Free)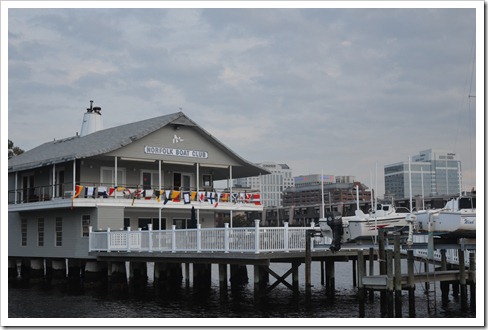 Nimue was moored next to the Norfolk Boat Club and a view of Norfolk harbour taken on a very grey November day
---