Lively sailing from St Lucia to Martinique

Nimue
Sun 16 Jan 2011 18:44
The annual St Lucia to Martinique race participants were passing by as we were preparing for the 25 nm sail up to Marin in the south of Martinique. There were a few dark clouds in the sky, so no doubt we would hit a squall or two on the way.
Race participants (above) passing by Nimue anchored near to Pigeon Island (below)
Once round the headland of St Lucia, we were straight back into full Atlantic swell and 20 knots of wind. Nimue was just on the edge of needing her first reef, but nevertheless she was sailing well and we were soon passing Beez Neez (a 40ft Warrior). Pepe had her camera ready and took some great action shots of Nimue. I managed to catch a few shots too of Beez pounding up and down in the waves.
Beez Neez taking a nose dive into the swell
Nimue storming along â no she is not sinking itâs just the camera angle!
Nimue on the crest of a wave
And down again...............................
Looking magnificent under full sail
See you later Beez..............
As we were approaching Marin (known as Cul-de sac du Marin) on the south of Martinique, the sky went grey, the wind eased and within moments we were hit by a line squall and torrential rain. By this time we were only under a reefed mainsail, so with virtually no visibility we stayed well offshore until it cleared about 20 minutes or so later. The approach into Marin required some careful navigation to clear a number of shoals and reefs. We also needed to ensure we followed the IALA Zone B buoyage system through the narrow channels. Basically this means keeping green marks to port and red to starboard (opposite to UK and Europe), or as the local saying goes âright red returningâ.
Squall going through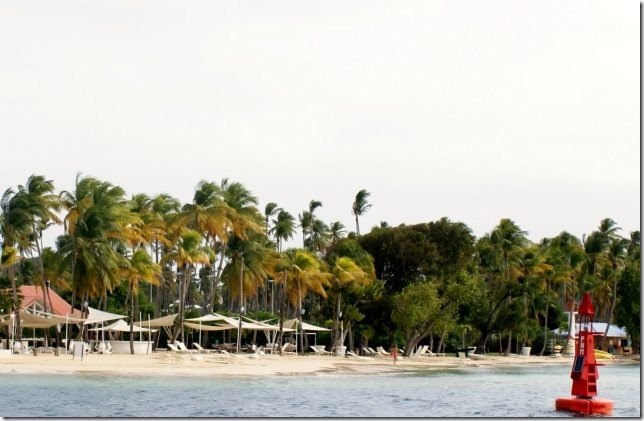 Leaving the red mark to starboard
Club Med at Pointe de Marin
The owner of this yacht (far left) got something wrong
Nimue preparing to drop anchor
The Marin Yacht haven has almost 600 berths and provides excellent shelter. Ironically, the Cul-de sac until very recently was just a wild and lonely spot used by local fishermen, but has become the biggest yachting centre in the S Antilles. All the same we found Nimue a sheltered anchorage, just a short dinghy ride from the marina and shops.
---