22nd -26th July 2013 - Boothbay Harbour & Pemaquid (Bristol) Maine

Nimue
Fri 26 Jul 2013 20:27
Maine is the most northern state on America's east coast. It is known for its jagged, rocky coastline; low, rolling mountains; heavily forested interior, and picturesque waterways—as well as for its seafood cuisine, especially lobster and clams.

For the 33nm motor sail from South Freeport to Boothbay Harbour, the wind was 'on the nose' and we stayed fairly close to the coast until we rounded Cape Newagen, past the Cuckolds Light into Boothbay Harbour.




There were no obvious anchorages in the main harbour, so we picked up a mooring ($35) at the Boothbay Harbour YC for 1 night. We learnt there was a tight anchorage a few hundred metres away from the YC, so moved Nimue the following morning in thick fog to her new spot.



The Cuckolds Light, is located on the eastern pair of islets known as the "Cuckolds" The islets are southeast and in sight of Cape Island, that is just off the southern tip of Cape Newagen on Southport Island, south of Booth Bay, that leads to Boothbay Harbour, Maine.
Niimue at anchor in Boothbay Harbour
Inside Boothbay Harbour
One of the famous Chowder Houses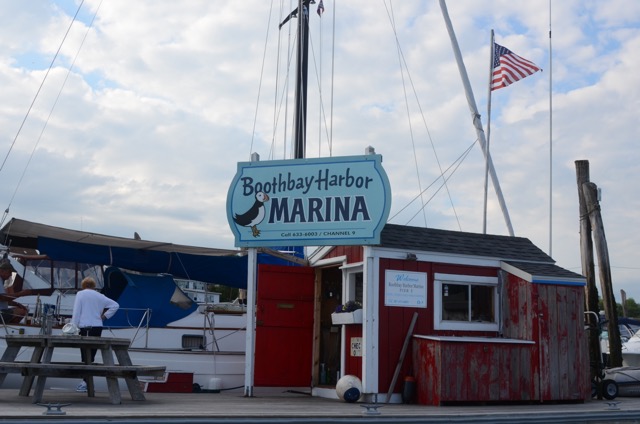 Boothbay Marina
The harbourmasters office
Michael at the dinghy dock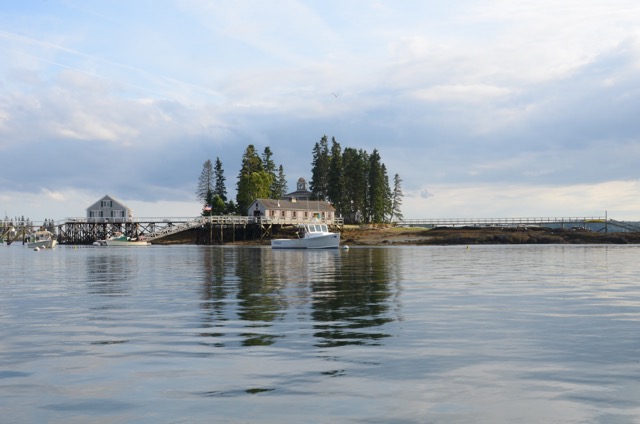 Mc Farland Island; just outside the harbour and on the way back to Nimue
Our Lady Queen of Peace is a landmark church known to every seaman making port in Boothbay Harbor. At night, its white, floodlit steeple is a beacon signifying home and safety.
We were invited out for the day by Ken & Heather; some friends we had last met in The Bahamas on their catamaran, Faring. They very kindly took us out for a lobster lunch and also took us to the Pemaquid Lighthouse Point Park. Unfortunately it was a foggy day (as tends to be the case in Maine in the summer months). But, we had a good opportunity to wonder around and explore the grounds.
Once territory of the Abenaki Indians
, early Bristol (formerly Pemaquid) was one of the most important and embattled
frontier
settlements in the province. Beginning with seasonal fishing, as early as 1625 the English
established at Pemaquid Point a year-round fur trading post
. Since 1632 Pemaquid has been at the centre of raids and and sieges and in
1775, the town dismantled the fort to prevent it from becoming a British stronghold during the
Revolutionary War
. The state acquired the site in 1902, and in 1908 rebuilt the tower of Fort William Henry, using many original stones. In 1993, the site was designated a
National Historic Landmark
.
Pemaquid Point Lighthouse on a foggy day
In the Pemaquid Point Lighthouse Park
Michael, Heather & Ken
Yes, Penobscot Indians lived here once
Outside the Fort - museum
Overlooking the bay from the Fort grounds.
---