Cadiz

Nimue
Sat 25 Sep 2010 19:28
We took advantage of the regular ferry service from Rota to Cadiz (€4.40 per person each way) and spent a fabulous day exploring the city and eating superb tapas.

Cadiz is one of the oldest cities in Spain and it is crammed onto the head of a promontory like some huge and overcrowded ocean-going ship.

Columbus sailed from Cadiz on his 2nd and 4th voyages and after his success in the Americas, Cadiz grew into Spain's richest and most cosmopolitan city in the 18th century.
The yellow-domed 18th century cathedral is the city's most striking landmark.
Arriving in Cadiz - cathedral in background Outside the cathedtral
The impressive yellow dome of the Cathedral
However, on our walk around the city, we were advised to make our way to the promenade which was said to have a striking resemblance to Havana, Cuba.
It did and in fact the walk around the promenade and toward La Caleta Beach was truly magnificent, where we could see San Sebastian Castle (military fort) some ½ mile into the Atlantic.
These 3 pictures taken on the promenade that is said to replicate the one in Havana, Cuba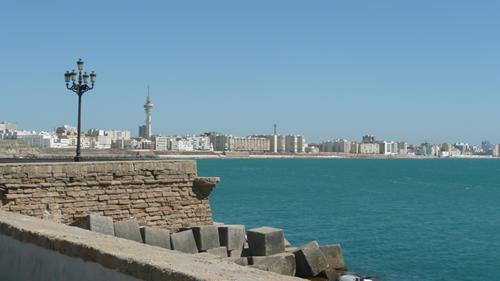 Views towards San Sebastian Castle
Santa Catalina Castle and Michael still searching for ships!
The former La Palma Spa is in the centre of the beach, looking out to sea and this eccentric style 20th century building is currently the seat of the Andalusian Underwater Archaeological Centre.
Former La Palma Spa Small fishing boats moored of the beach
Our walk through Genoves Park with the dinosaurs was interesting, but the beautifully maintained trees were the most impressive.
Dinasours in Genoves Park and the beautifully manicured trees
Cadiz is a truly wonderful city and one we would both highly recommend to visit.
---