The Wilkerson Bridge, green mosquitos and onto Great Bridge - 3-5 June 2011

Nimue
Sun 5 Jun 2011 18:04
From Oriental we headed toward the infamous Wilkerson Bridge. Most of the fixed bridges along the ICW have a 65ft draught clearance at high water, but we knew that the Wilkerson bridge had only 64ft clearance and were concerned whether us and Scott Free would have sufficient clearance! We watched closely as Loon easily cleared the bridge, but then it was our turn..... the depth gauge at the bridge displayed 64.5ft and therefore we decided to go for it. It was all looking good and the mast appeared to be clearing, but as we were going through we heard a metal pinging sound, which we immediately knew was the VHF ariel which was on top of the mast. No harm done, but we advised Scott Free to expect the same.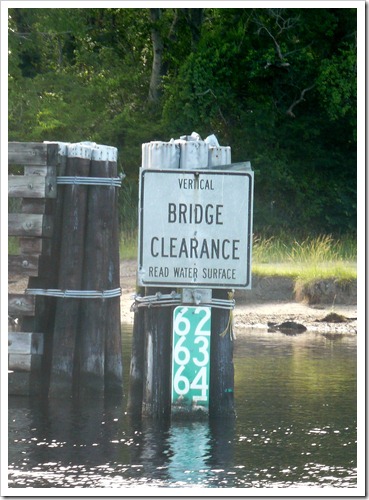 The Wilkerson Bridge and Nimue underneath it!
The next day we headed up the Alligator River to an anchorage near East Lake, which was conveniently located just before the Albemarle Sound. The crossing of the Albemarle Sound can be nasty in more than 20 knots of wind, but we had nothing more than a breeze for our crossing the next day to an anchorage near Buck Island. Everyone came on board Nimue for one of my homemade curries, but unbeknown to us at the time, we were being invaded by literally millions of green non-biting mosquitos. All became apparent the next day when Michael poked his head into into the cockpit, but returned immediately to arm himself with a large can of mosquito spray. The spray got rid of most of the beasties, but unfortunately they discharged an awful green liquid, which stained everything it came into contact with. Loon seemed to come off worst and Kenny ended up with green sails!
Swing bridge crossing the Alligator River (does not open in more than 34 knots of wind!)
Just a few dead of the mossies we gathered - ugh!
Concentrating on missing the odd tree stump lurking just on top, or underneath the surface of the ICW
Michael, just after a rain storm in North Landing River
Sarah on Loon
In a convoy!
In the thick of cleaning up, Sarah still managed to rustle up some chocolate brownies, which were handed across to us and Scott Free in a plastic bag attached to a boat hook. It was good to get up to Great Bridge the next day, where we were able to walk to town and replenish our stocks at a nearby supermarket. We also found a Radioshack to purchase a US mobile telephone, which was the cheapest option for us to call Homeland Security each time we cross a state line!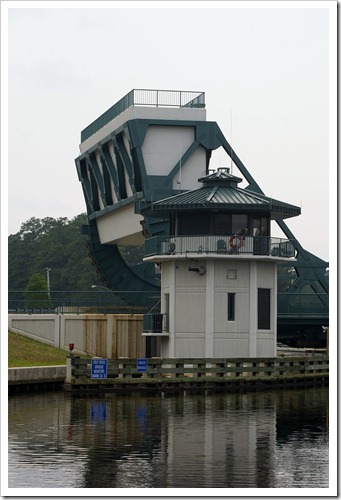 At Great Bridge
All 3 yachts moored alongside at the free dock at Great Bridge
What's going on here? Michael and Steve playing with their new USA mobile phones!
---