9th Mar - 16th Mar 2013 Staniel Cay, The Exumas, Bahamas PART 1

Nimue
Sat 16 Mar 2013 21:38
We were happy to take the long 'wet' dinghy ride ashore to the Staniel Cay Yacht Club and indulge in a few rum punches ($9 each) and "okay" burgers. Our new AB dinghy was becoming somewhat of a disappointment and was giving us uncomfortable, wet rides in anything but a flat sea!
We anchored at Big Major's Spot
The dinghy 'car park' at Staniel Cay Yacht Club
Outside the Staniel Cay Yacht Club (SCYC)
Inside the SCYC having a beer and waiting for our burgers
Staniel Cay is one of the 'not so remote' islands in the Exuma chain, and we able to pick up a few groceries at the aptly name Pink Place and Blue Place! We also had very nice fish lunch with Ken & Heather at the Purple Place (honestly, I'm not making these names up)!
Lisa trying to become invisible outside The Pink Place (Supermarket) and the Purple Place (Restaurant)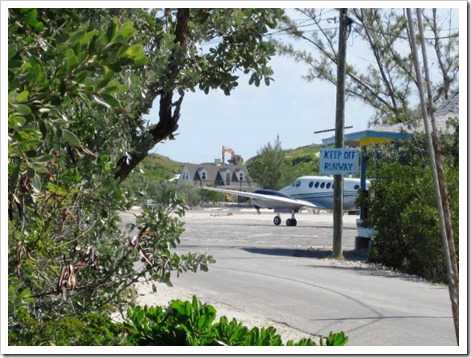 The airstrip .............hope everyone obeys the sign!
Walking over the little bridge to the larger supermarket we came across a stingray and this school of Bonefish
Staniel Cay is famous for 'Thunderball Cave' where the James Bond movie of the same name was filmed A 'must' to snorkel, so we took our dinghies and dropped a sea anchor near to the entrance of the cave. No sooner had we snorkelled into the cave entrance, when we were surrounded by hundreds of beautifully coloured fish and it was just like swimming in an aquarium! We had taken some sweet corn in a plastic bag to feed the fish, but once they had a hint of what was in the bag, they couldn't resist coming even closer, to the extent that one of them bit the end of Michael's bag allowing all the sweet corn to escape. Anyway a great experience. A short dinghy ride from the anchorage, we found a great area to have BBQ's on the beach and allowed us all to meet up in the early evening to share something to eat together. By this time we had been joined by Steve and Marja (Motu) and also some friends we had met a year earlier, Ken and Heather and their 3 dogs (Faring). We soon realised after the first night, it was unwise to stay on the beach after dark, as we (especially Michael and I) were 'bitten to death' by mosquito's and sand flies!
Arriving at 'Thunderball Cave' and only one or two fish
Michael snorkelling in the cave and another fish
Ashore at our favourite BBQ beach, where other cruisers had left tables and chairs.
Enjoying the feast before the flies arrive
Overlooking the small marina and a few yachts in the shallower anchorage
The island's notice board and the colourful bougainvillea
---