Gibraltar - second time around.

Nimue
Sun 12 Sep 2010 17:03
We were not particularly interested in spending too long in Gibraltar as we had already spent 6 days there on our inward bound trip into the Med. in 2008.
However, we had heard about a brand new marina in La Linea, Spain located literally just over the border. So we decided to spend a night there and explore the town. First impressions, is that it has the makings of a very good marina, excellent showers and washing machine etc, but not much else. In fact it was almost a mile walk to get out of the marina, too far in the heat. Anyway we did hit La Linea for a day and although a bit 'rough and ready' it had a great market and coffee shops.
Promenade at new La Linea Marina Very empty - Nimue 3 boat in from left.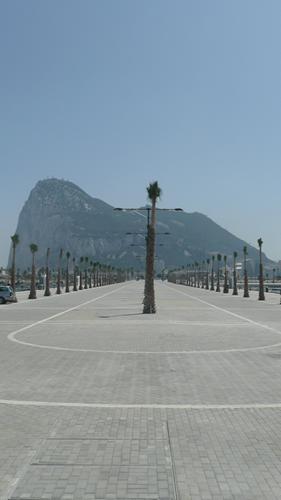 View of the Rock from outside the shower block View from inside the shower block - very modernistic!
We then headed across the border into Gibraltar where we had made a reservation to spend a few days in Marina Bay, marina in Gibraltar (next to the airport). From there we did a huge shop in Morrisons (last chance to buy British products) and stocked up with a few other goodies, before heading round into Queensway marina for a further 3 days. We had arranged to 'rendez vous' with Rob and Sheila ('Let it Be'), some friends we met last year in Sant Carles marina. We also bumped into two other couples on yachts 'Scott Free' and 'Serafin', who were also heading towards the Canaries and then planning to cross the Atlantic, about the same time us in December. So we're hoping to all meet up again in Lanzarote!
Queensway Marina Michael putting passarelle away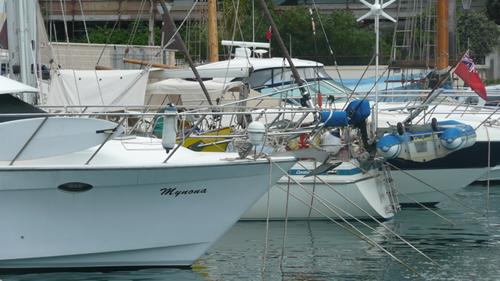 Rob off 'Serafin' Another Contest yacht 'Scott Free' flying the red ensign
We had wanted to visit the World War 2 tunnels in the Rock and eventually made the effort to climb up the very steep hill only to find it was closed on Saturdays! Anyway the view was well worth the walk and we did feel much fitter for doing so.
Oh no, the World War 2 Tunnels are closed on Saturdays!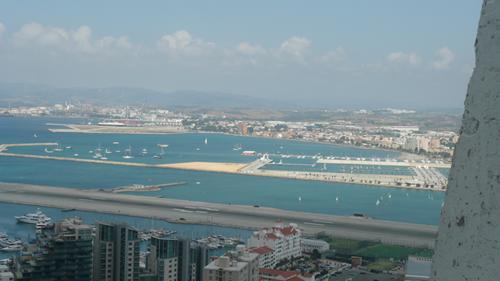 Great view of new La Linea marina (right) and anchorage (left) above Gibraltar airport runway
View of Moorish Castle (left) and Marina Bay marina (centre)
Our impressions of Gibraltar the second time around were alot better than the first. Last time around Gibraltar seemed somewhat tatty and in need of some restoration. Anyway, most of the building work around Marina Bay was complete and work was underway to give the whole place a facelift and it all felt a lot more pleasant.
Our last night near Gibraltar was spent at anchor outside the new La Linea marina, before heading out of the Straits to Cadiz.
At anchor in La Linea, great view of the Rock An early start, many tankers at anchor!
---