16 Dec 2012 - 8 Jan 2013 - Charleston Part 3

Nimue
Sat 5 Jan 2013 14:48
Kenny (s/v Loon) and Sarah were also in Charleston, crewing for the winter on board a friend's Hunter 50 called Windward Passage. We had been invited to a 'New Years Eve' party at another of their friend's house in upmarket Mount Pleasant. This was a very 'posh affair' and everything had been laid on by our host; we even had a driver pick us up from the marina to take us to the house and back again!
Drinks at BJ and Brian's, who had invited us to the New Years Eve Party. By the way the ladies were asked to wear appropriate headwear!
Balloons ready to be let loose at the stroke of midnight and there they go......!
Kenny and Sarah had the use of large people carrier, so we took the opportunity to visit Savannah, a couple of hours drive away. As there was plenty of room, Guy and Louise (s/v Miss Ellie, a Valiant ), came along too. Unfortunately, the weather was rather inclement and we didn't really see Savannah in all it's glorious splendour. Despite the rain, we had a good wonder round, the streets, the parks and even a cemetery!
Savannah is the oldest city in the US state of Georgia. A strategic port city in the American Revolution and during the American Civil War, Savannah today, is an industrial centre and an important Atlantic seaport.
Millions of visitors are attracted to Savannah each year by the city's architecture and historic buildings and also it's 22 park like squares.
The Colonial Park Cemetery, is known one of Savannah's most beautiful restorations and is the final resting place for many of Savannah's earliest citizens and many distinguished Savannahians. Also more more than 700 victims of the 1820 Yellow Fever epidemic are buried here, as well as the dead from Savannah's duelling era!
Guy & Louise, Sarah, Michael and Kenny in the cemetery . Some of the graves, built of brick looked liked large beds!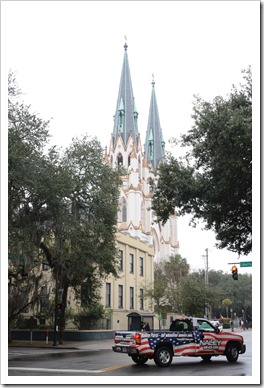 The Cathedral of John the Baptist (1896) and a typical house along a typical tree lined street!
Fortsyth Park, named after Governor John Forsyth and made possible by a donation of 20 acres of land owned by Fortsyth. The Confederate Memorial Statue donated to commemorate those volunteers who gave their lives fighting for the Confederacy.
Taking a wonder around Forsyth Park, where we ended up paying $5 per couple to have this photo taken of us all.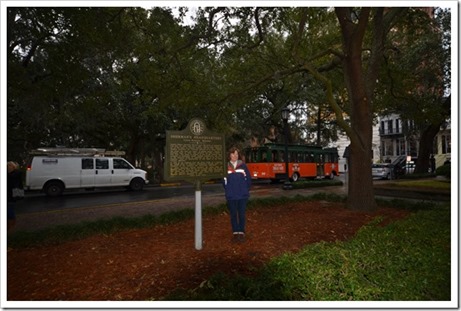 The 'live' oak trees are seen all over Savannah Sarah standing by General Sherman's plaque who sieged Savannah!
Finally, lunch at one of the famous diners.
Back in Charleston, the cold and wet weather was now getting to us; literally, so we preparations to leave as soon as we had a good weather window.
In the meantime, we bid farewell to Emmett & Mecca and thanked them again for their generous hospitality.
Last night with Emmett & Mecca at the Charleston Yacht Club.
---