21st -28th April 2013 - Georgetown ,Great Exuma.

Nimue
Sun 28 Apr 2013 03:47
From Cat Island, we had a wonderful 52nm sail to Georgetown down the Exuma Sound in a light breeze. Made even better when I caught a Mahi Mahi, which I filleted en route and then called Marja suggesting Fish Taco's on Motu, that evening. The suggestion went down very well, as Motu was already anchored in Georgetown. We negotiated a fairly tricky 'Conch Channel' entrance to enter Elizabeth Harbour and found a good anchoring spot off Stocking Island between "Chat and Chill & Sand dollar beach" and only a short dinghy ride from Motu . The Mahi Mahi fish tacos were excellent and it was great to meet up with Steve and Marja off Motu again.
Good size Mahi Mahi (aka Dolphin Fish or Dorado) Stocking Island, Georgetown
Stocking Island is a small, long, narrow island off the port of Georgetown and is located 1 mile (1.6 km) from Georgetown, across the harbour. The long narrow island protects Georgetown from ocean waves, creating a natural harbour. The central part of Stocking Island features an inlet known as Hurricane Hole where sailboats anchor for protection during storms, and which features a blue hole. Opposite Hurricane Hole is a sandbar beach called the Spit where locals have built a popular bar/restaurant accessible only by boat known as Chat 'N' Chill. Many of the beaches appear to have been named after what is found there, or what it is used for e.g Sand Dollar beach, Hamburger beach, Volleyball beach..........!
"The gang" on a beach walk on the ocean side of Stocking Island and Michael 'lounging' (right of picture) in one of the shallow clear pools
Celebrations of Hamburger beach for Sarah's "special" birthday
Yours truly, with Marja & Marti Sarah with Marja & Kenny showing off her shell necklace
The journey into Georgetown, involves about a mile dinghy ride across a usually choppy Elizabeth Habour. Then into Lake Victoria, aptly named after Queen Victoria through a narrow 4ft entrance, made all the more interesting in any type of swell! The lake has a large dinghy dock for the many of its regular visitors. Georgetown is the place to re-provision at Exuma Market, although it's best to get there on a Tuesday, after the weekly delivery.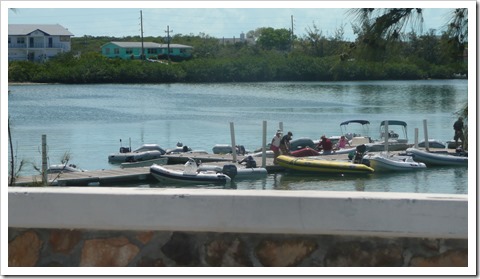 The narrow 4ft entrance from Elizabeth Harbour into Lake Victoria Dinghy dock in Lake Victoria
---