Guadeloupe - Island tour by car

Nimue
Fri 28 Jan 2011 02:15
Whilst waiting for parts in Pointe a Pitre, we tried to book a hire car for a few days, but the chap in the office advised us in 'Franglais' that NO CARS WERE AVAILABLE FOR WEEKS! Could this be actually true? The answer is yes, as we were advised that due to the high demand by African, Moroccan, Tunisian and Egyptian tourists on vacation on the island, there were no cars for hire! We did think this a little weird at the time, but on reflection why shouldn't they come to Guadeloupe on vacation? On the second occasion we visited the hire car company I must have looked really fed up, as the same chap said there may be a car available in a few days time. This was in fact true, so we did a whistle-stop tour of the Island on Saturday afternoon and all day Sunday in a lovely, virtually brand new car. St. Francois on the south coast was our first stop, as I wanted to visit the restaurant owned by the same brothers who own a restaurant by the same name in Camaret on the Rade de Brest in France. In 2006 we moored Nimue in Camaret for a year in 2006 and occasionally ate at "Les Freres de la Cote". Their business card also showed they had a restaurant in Guadaloupe, so as we were on the island I decided to try and find it. We located "Les Freres de la Cote" within minutes of arriving in St. Francois, which is situated on the southern coast of Grande Terre (which means Big Land, but in fact is the lower of the two islands). Unfortunately it was closed, but the menu looked inviting and almost identical to the one in Camaret. So we decided not to wait until it opened for dinner and returned to Nimue for supper.
Our nice new hire car with less than 6000km on the clock and air con.
Colourful looking church in St. Francois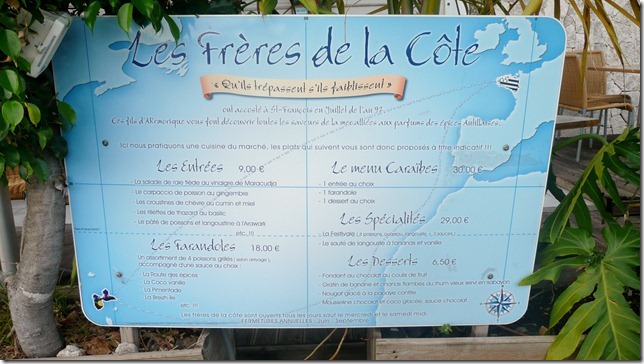 Les Freres de la Cote restaurant, which unfortunately was closed
On Sunday we drove virtually around the whole island and visited the beautiful botanical gardens in Deshaie (pronounced Day ey) on Basse Terre (meaning Low Land, is in fact mainly a high, forest covered, mountainous and volcanic massif). We also checked out the anchorage in Deshaie, as we intended to bring Nimue here as it's an ideal place to set sail for Antigua.
Michael surveying the anchorage as Deshaie
Interesting photo, as local appeared to be panning for gold
We also spotted Otra Vida (foreground) but no Martin
We
started to drive up to La Soufriere, the active 1467m volcano, but a just a few kilometres up the heavens opened and visibility was lost, so we turned around and headed back to Pointe a Pitre. A very enjoyable and interesting day and Guadeloupe does actually have a lot to offer.
Finally we found a very large Leaderprice supermarket, so took the opportunity to stock up on lots of heavy groceries.
---