1st - 7th Dec 2011- Charming Charleston Part 1

Nimue
Thu 8 Dec 2011 15:16
After 18 hours and 217nm later, we managed to find a suitable spot in the dark to drop anchor in the Ashley River in Downtown Charleston,opposite Charleston City Marina.
Having e-mailed Emmett, the OCC representative in Charleston, we arranged to meet him near the Charleston Yacht Club. This lovely gentleman drove up in his big volvo estate and after the usual introductions, Emmett suggested a drive around the town, so he could show us some of the sights, before retiring to the yacht club. We all thought this was a splendid idea!
On reading the membership information about Charleston Yacht Club, their mission was to "promote and encourage boating in all its forms, as well as the social activities which accompany it". As visitors of the club we were made most welcome and we were all impressed when we were encouraged to participate in the first Friday night hors d'oeuvres supper (no charge made).
The Charleston Yacht Club founded in 1934. Standing with Emmett (centre) in the Club
With strong winds forecast for the following few days, we took the opportunity to explore Charleston. The walk into town took half and hour or so, but we also made use of the free trolley buses; once we worked out the timetable and routes!
Can you really imagine this would work in the UK? Michael and Steve of course had to cross the road carrying one!
Charleston is a most beautiful town with more than 300 years of colonised history. Charleston's name is derived from Charles Towne, named after King Charles 11.
First stop a tour of the Charleston Museum. Before entering, we came across a full size replica of the H L Hunley, the first submarine to successfully sink an enemy warship.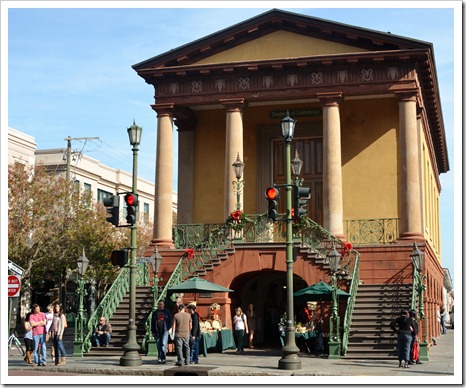 The old city market, built in 1841 and completed a US$5.5m renovation in June 2011. Small shops sell everything from produce to antiques. This Gullah lady is weaving a sweetgrass basket to sell. These ladies are known for their lilting dialect.
Anything made from sweetgrass is fairly pricey and prices for the larger baskets start at US$60-80 and can sell for several hundred US$
Christmas decorations for sale in the Market
There are copious amounts of ironwork in Charleston, which fall into two categories:- wrought iron and cast iron. Wrought iron has been heated and shaped by hand and hammers, while cast iron has been melted and poured into molds. The later was a more popular Victorian choice, as it was more economical than wrought iron (see below).
Michael and Chris walking toward Heyward-Washington House. Built in 1772, "Charleston's Revolutionary War House" was the town-home of Thomas Heyward, Jr. (signer of America's Declaration of Independence).
---