Sint Maarten/St Martin - 26 Mar - 9 Apr 2011

Nimue
Sat 9 Apr 2011 11:52
We were both looking forward to visiting St Maarten, as fellow cruisers had advised that it is one of the best places in the Caribbean to purchase duty free goods, with plenty of life and things to do. So after a quick 20 nm trip from St Barths, we arrived in Simpson Bay anchorage in St Maarten. Not long after we arrived a display of American WW2 display aircraft flew over us; I think they were on their way to St Barths for the end of the Bucket Regatta!
Simpson Bay anchorage, Sint Maarten
American WW2 display planes
American WW2 bomber plane (above & below)
Before I go any further, why does the island have 2 names? Basically after Columbus named it after St Martin of Tours whilst sailing past it in 1493, the French and Dutch ended up fighting for control of it. As legend has it, the Dutch and the French decided to partition Sint Maarten/St. Martin from a march originating from Oyster Pond on the east side of the island. The French walked northward, the Dutch south. While the French quenched their thirst with wine, the Dutch brought along dodgy gin. Halfway through the Dutchmen stopped to sleep off the ill effects, giving the French a greater piece of the pie. The border is almost entirely theoretical and without frontier posts, but each part has a different administration system and manages its sea space differently. Although one island, but sides are very different from one another, with obvious signs that the French still want to cling onto to their European roots, whereas the Dutch gearing everything around tourism and as a consequence is not quite so attractive.
Map of Sint Maarten/St Martin showing the Lagoon area where Nimue was anchored
We initially cleared into Customs & Immigration on the Dutch side and paid our dues for one week, but when the anchorage got lumpy we decided to go through the Simpson Bay swing bridge into the Lagoon for better protection. This large Lagoon is part Dutch, part French and Nimue was anchored virtually on the border, so we could have flown both Dutch and French courtesy flags! Although we entered through the bridge on the Dutch side, there is another entrance into the Lagoon via the French bridge in Marigot Bay, but the depth of water just after the entrance is just too shallow for Nimue. The anchorage in the Lagoon was much quieter, but very shallow and would always give a big chop in strong winds. It took us a good few days to 'find our feet' around the lagoon area and to find out where everything was, but found out more by listening on the VHF Net run each morning by Mike at Shrimpies laundry. Basically, he provided details on the weather, enabled cruisers just arriving or leaving Sint Maarten to introduce themselves and allow anyone with a problem or question to put it over the net. My favourite slot, was 'Buy, Sell or Swop', where cruisers were able to sell items they were trying to get rid of, or ask anyone if they were selling something they wanted. I was able to purchase some charts of the Chesapeake Bay area for around a quarter of the price if had I purchased them new!
Following one of the St Barts Buckett race participants through the swing bridge into Simpson Lagoon
Passing by Sint Maarten Yacht Club
Swing bridge Customs & Immigration – Dutch side
View of swing bridge from inside the Lagoon
Sint Maarten boasts 2 of the largest chandleries in the Caribbean, (Budget Marine and Island Water World) both with their own dinghy docks and selling items at duty free prices. We had already decided to purchase a wind generator (a D400), as this would provide an additional boost to the batteries when at anchor. We purchased a few other goodies including 2 new propane gas bottles (as it was getting increasingly difficult to get European Camping Gaz bottles re-filled) and we managed to get a good deal on the lot. The wind generator will not be fitted until we get to the USA, as we need to have a stainless steel frame built made for the the back of Nimue, which will hold the wind generator and also the sun panels, which are currently sited on top of the bimini.
Many hours spent in both Budget Marine and Island Water World (above & below)!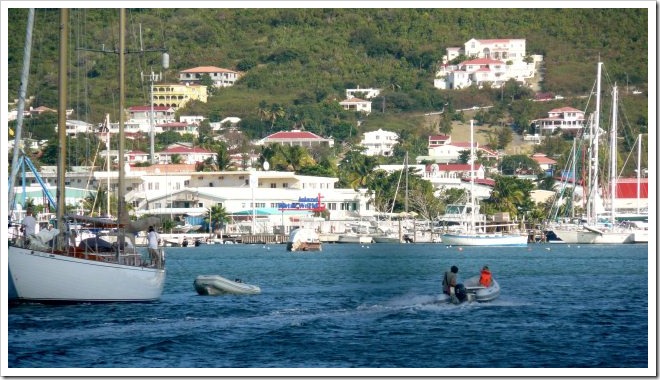 As Jonas had just been given another month's extended leave, Sea Otter decided to sail from Antigua to join us, but again, as they were just about to drop anchor in the Lagoon, they encountered yet another problem. This time the anchor chain did not fit their newly purchased windlass, but eventually with Michael's help they managed to safely anchor. They decided to purchase new chain, but successfully managed to sell their old chain using the morning Net. By now we had been in Sint Maarten for almost a week, so we checked out, paying exit dues to the Dutch authorities and then rode our dinghy a couple of miles to Port La Royale to clear in at La Capitainerie on the French side. This was a much cheaper and altogether easier process. It all sounds very odd, but it's all part of cruising way of life and keeping the costs down!
Sundowners at The Buccaneer with Heather & Jonas off Sea Otter
Clearing in on the French side at the Port La Royale, Capitainerie
All finished and Michael climbing back into the dinghy
---