21st -28th April 2013 - Family Island Regatta, Georgetown

Nimue
Sun 28 Apr 2013 13:48
Elizabeth Harbour, named after Queen Elizabeth comes alive during the last week of April, with sailors from around The Bahamas who bring their sloops to participate in different cup and trophy races in the annual Family Island Regatta. On the last day of the Regatta, the whole town, including the Police, participates in the most fantastic parade around the town and we managed to find a great vantage point on top a building to see the musical and colourful parades.
It wasn't long before we hooked up with our friend's Kenny, Sarah & Bill off Windward Passage and David & Marti off Blue Yonder who were also anchored in Georgetown.
Sloop arriving for the start of the Family Island Regatta
A walk around the harbour One of the many stalls open for the Regatta
Finding a spot to eat lunch
The following series of slides shows the sloops racing in Elizabeth Harbour and it's great to the crews balancing the rig on the outrigger boards
All bunching up to round the downwind marker
Waiting on the beach for the water taxi to arrive to take us over to Georgetown to watch the Parade and then on the veranda
A good vantage point of the Parade from the rooftop
The Police Force dressed up in their 'finery' and they marched and danced as they played there instruments........great fun to see!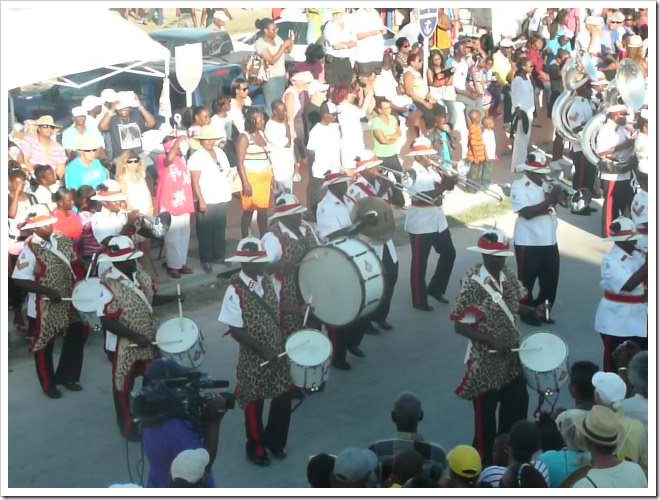 The end of a very good day!
---