Antigua - Jolly Harbour and meeting up with Jody

Nimue
Fri 4 Mar 2011 03:17
Before heading to Jolly Harbour we spent a couple of hours snorkelling in Nonsuch bay, entirely protected by a large barrier reef and one of the best anchorages in Antigua. The bay was named after the first visiting ship called the Nonsuch, which found its way in 1647 though the small entrance and dropped anchor.
Leaving English Harbour
The narrow entrance of Nonsuch Bay, looking to seaward
The reef, clearly visible
The beach we snorkelled to – just gorgeous
Our anchorage in Nonsuch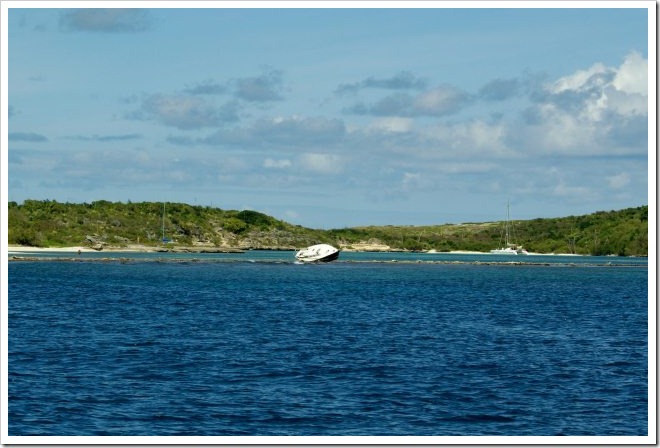 This yacht fell foul of the reef
It got quite interesting as we headed towards Jolly Harbour, as it became very shallow from an awful long way out and we eventually anchored with barely 1 metre under the keel! Nimue sat in a milky, turquoise sea, quite something! We had anticipated that Sea Otter would join us at anchor, the next day, but despite having worked on the anchor winch in English Harbour, they were still plagued by a faulty electrical connection, so they headed for one of the nearby buoys. Despite Michael, Jonas and Heather trying to fix the problem most of the following day, Michael eventually advised that the windlass was basically corroded and it would probably be best if they purchased a new one.
Nimue anchored in Jolly, well just outside as no anchoring allowed in the harbour.
Just look at the contrast of the colours of the sea and sky; truly stunning!
Jolly Harbour is a huge lakeside complex and dredged out of the old Salt Pond. Whilst in Jolly we found Scott Free (Steve & Chris) and Serafina (Rob & Sarah) were tucked up in the marina They took us to Castaways bar, which overlooks a gorgeous long beach and an excellent spot for a swim and have sun downers; really very Caribbean! We also spent a very enjoyable evening together playing a fun game called Mexican Train Dominoes (luckily we had been taught to play this game by Pepe and Bear on Beez Neez), but still neither of us we able to take line honours.
The long beach just outside Castaways bar
The next 3 pictures show the sun going down with umbrella!
One day whilst travelling back to Nimue by dinghy we noticed Jody Sallons filling her RIB up with petrol at the fuel dock. We knew that Jody was now living and working in Antigua, but were not quite sure where. We first met The Sallons on Royal Southern Yacht Club events, although Louis and Elly (Jody's parents) now live in France. It was really good to catch up again and we ended up having a lovely meal together at a newish Italian restaurant overlooking the harbour.
Jody Sallons
As the weather was looking okay to visit Barbuda, we checked out from Jolly before heading up to Deep Bay, where the wreck of the Andes (showing a few stumps above the surface) lies right in the middle of the bay. We set off early the next day for the delights of Barbuda. Sea Otter were still waiting for their new windlass to arrive from St Martin, so decided to join us. It was felt that despite having no anchor winch, they would be anchoring in shallow water and therefore able to manage to haul up the anchor manually.
Clearing out of Antigua
Michael with official documentation
One last look at Jolly Harbour
Deep Bay
The wreck of the Andes, just showing above the surface
---