29 Mar - 1 Apr 2012 - Meeting up with Loon in Fort Pierce

Nimue
Sun 1 Apr 2012 21:07
After a couple of days we left Fort Lauderdale and headed up to Fort Pierce, again with the benefit of the fast flowing Gulf Stream and we were sailing as much as 12knots over the ground (SOG) We had arranged to meet our friend, Kenny, sailing on his own yacht, Loon (who we originally met in Marsh Harbour, in The Abacos in May 2011). It was great to catch up again and as he was taking Loon back up to Boston, we agreed to cruise in company. This turned out to be a good thing, as whenever we anchored, he took charge of our dinghy Merlin and whenever we went ashore, he came to pick us up.
Parking outside the house- nice! Speed signs seen throughout the ICW (cruisers are responsible for their wake in the USA!)
Even larger yacht parked outside their 'just as large' house!
Waterside properties in Ft. Lauderdale (nicknamed Little Venice!)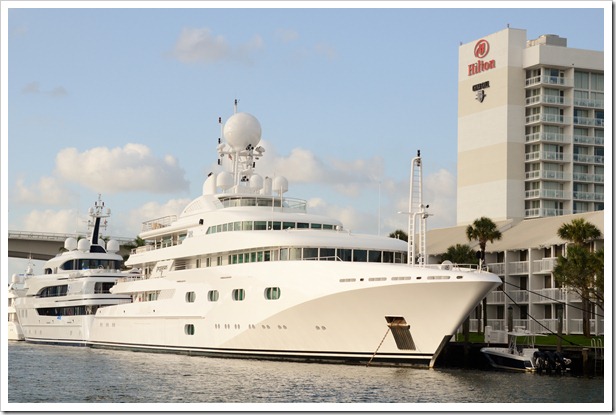 A couple of 'super yachts' – very nice!
Approaching the SE 17th Bridge in Fort Lauderdale
We were called up by the tug Patriarch to advise he had seen us and to remain on our course
Approaching Fort Pierce at sunset
Into the swift flowing current as we enter Fort Pierce
Made it ........................and then came across these guys fishing from a boat that has floats similar to an seaplane
---