Waldringfield - 12 August

Dearloves
Sun 13 Aug 2006 20:59
We are starting to acclimatise to life ashore, while trying not to let reality hit us with too much of a bump. Last weekend we organised a day charter for some of the friends we met on our trip - from Tamarisk, Blase and Wild Alliance, and we had a gentle beat out to the Rough Towers, where we bore off, rounded Medusa Buoy and returned to Levington.
Tim from Tamarisk enjoys being back behind the wheel
It was a really good day out, although the sail seemed terribly short; we were only on board for around 4 hours! Great to meet up with everyone again, though and we were able to compare our re-integration experiences. Someone had a book on how to write CVs, which was in hot demand!
Sealand aka the Rough Towers
For part of the beat we were accompanied by Duet, a 72 foot Old Gaffer which Juliet sailed on a trip to the Baltic when she was 16 years old, and had not seen since.
Duet
We also saw a beautiful Thames Barge from Pin Mill: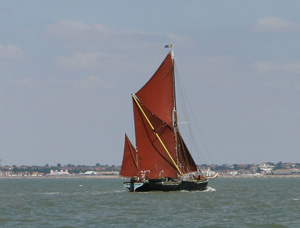 We have received some more pictures of our homecoming at the end of July:
Approaching the Deben Bar (photo by Victoria)
Intercepted by Persephone (photo by Victoria)
Coming up the Deben (photo by Bridget)
The Seamark Nunn rib comes alongside (photo by Bridget)
Finally, a cheeky shot of Pip...(by Bridget)
Pip has summed up how we feel - she told a friend she was "sorry to stop but happy to be home". Keoma is now on the south coast, for sale.
---