Isla Graciosa - 12 October

Dearloves
Wed 12 Oct 2005 12:02
A mile or so away from the northern tip of Lanzarote is Isla Graciosa, and our next port of call. Before leaving Puerto Calero we visited the Dolphin Museum, full of fascinating information about dolphins and whales. Outside the museum is a giant skeleton, which we had assumed to be prehistoric. It turns out that it is actually a skeleton of Bryde's Whale, which we could meet at any time. Looks quite frightening though!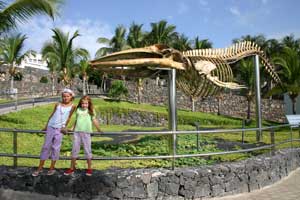 The sail to Graciosa took around 5 hours. The island is a very laid back place - such a contrast to the atmosphere of Puerto Calero.
Yacht Harbour, Graciosa
There are not many facilities here - for example, the pontoons have electric sockets but no electricity plumbed in. It's a "manana" kind of place!
Fishing Boats
High St, Graciosa (deep sand)
The beach, with Lanzarote in distance
The bike rental shop window
If the photo is illegible, it reads "If closed, simple put your returned bike in front of the door. If you want to rent a bike I'm in the restaurant "Girasul" (next to the little beech)".
The neighbours
We are next door to a Norwegian family who are also going to do the ARC. They have six year old twins, who Alice and Pip have enjoyed playing with. We had a barbeque on the beach with them last night.
Several of Alice and Pip's school friends have asked whether they are still doing school work. They most definitely are! Here are pictures of them at work:
Alice at school
Pip at school (in the Navstation classroom)
Lanzarote
Finally, an early morning view of Lanzarote. We will leave here tonight to sail to Gran Canaria (which will take around 20 hours), as we need more bits for the boat and want time to order them so that they can arrive before our Atlantic crossing. The plan is to have a few days in Las Palmas, Gran Canaria, and then go off to the western Canary Islands before heading back to Las Palmas. We will then make our final preparations before the crossing, which leaves on 20 November.
---