Italian Islands

Dearloves
Thu 11 Aug 2005 12:55
We have had some technical issues, which have meant that we have not updated
our website for a while, however we have had a wonderful time visiting Isola
di Giannutri (a small rocky island which is virtually uninhabited, about 30
miles from Civitaveccia), Isola di Giglio (a bustling fishing village where
we just managed to fit Keoma into the harbour - see pictures) and Elba which
is picturesque with a beautiful port (Portoferraio) and some lovely
anchorages and beaches.
Giannutri Rocks
Giglio Harbour
Giglio Doorway
Giglio Buildings
Giglio Castello
View from Giglio Castello
Giglio Castello from afar
Leaving Giglio
Elba from the sea
Portoferraio Harbour
Ice Cream in Portoferraio
View of castle from Elba anchorage
View of Portoferraio from Elba anchorage
Children on foredeck
Charlie at computer
Lighthouse outside Elba
New spinnaker!

We sailed across to Sardinia in a force 6, with the wind virtually on the
nose and big waves. It was 120 miles and quite hard work, but the boat
coped brilliantly and it was a good test for us. Particularly reassuring
was that the children were on deck at 4am enjoying it! They had heard the
rustle of chocolate bars being unwrapped (C and J had done quite a few sail
changes and were feeling a bit low on energy) and sprang out of bed. This
also meant they saw some shooting stars so they were doubly pleased.

Sunset on night sail
Charlie wiring in inverter

Sardinia has proved rather eventful so far. We arrived to a beautiful
natural anchorage - turquoise waters and an amazing panorama of mountains.
The place is called Punta di Capecciolo. We spent a couple of nights here,
including a barbecue on one of the nearby islands (see picture of us with
"Wilson"). Unfortunately we also
had an encounter between a rock and our keel, meaning we now need to have
the boat lifted out for an inspection.

Hermit crab island - Punto de Capecciolo
View of mountains - Punto de Capecciolo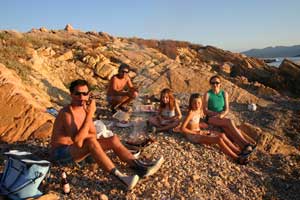 BBQ
View of anchorage
Collecting firewood

We moved onto another bay around 20 miles further north, called Golfo di
Marinella. By now it was getting quite windy and we spent a couple of days
there, storm bound by the Mistral. We had some amazing gusts of wind, up to
37 knots. It was very reassuring that our anchor held through this. There
was a forest fire and we watched the helecopter taking bags of water from
the sea. Yesterday the wind started to abate and Alice had a windsurfing
lesson. Juan and Charlie hired jetskis. In the evening we went to Olbia,
ready for the lift out tomorrow and Victoria and Juan's ferry back to the
mainland. It was great to have them with us for a few days.

Windsurfing lesson
Jetskis
Lighthouse outside Olbia

---