Antigua - 5 March

Dearloves
Mon 6 Mar 2006 21:28
Today we went to the birthday party of Jonathan and Jessicca from Regina, on Pidgeon Beach in Antigua.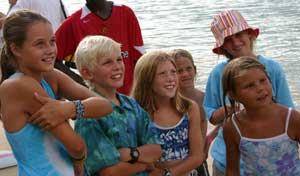 Emma, Jonathan, Rachel, Will, Jessicca and Alice
Chloe, Alice and Pip
Leon had organised a quiz for the children (which he enjoyed just as much as them).
They also did some surfing training:
Earlier in the day Trevor did some swimming from the stern of the boat, although the children kept trying to rescue him:
Seriously, he is OK!
---