Bermuda - 5 June

Dearloves
Fri 9 Jun 2006 15:14
Yesterday we walked a circular walk around the St Georges headland. First stop was Gates Fort, right next to the Town Cut where we first came into Bermuda. This lookout, dating from the 17th century, is a good place to spot yachts arriving and leaving.
Above is a French boat coming through the Town Cut - it is quite a narrow channel. The channel is so small that the markers are ashore - see the red buoy to the right of the picture. Somehow the cruise ships come in and out through this cut, meaning that the authorities have to strictly enforce a system of calling on the VHF radio before entering the Town Cut.
Above is a photo of another boat coming in. The channel markers may just be visible. We were tempted to try out the cannon.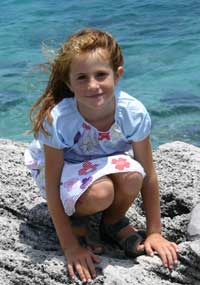 Pip
After Gates Fort we walked on. The rocky coastline was very dramatic and we saw several turquiose parrot fish in the water, from 20m or so away - they were pretty large.
We visited Alexander Battery next, also strategically placed along the coastline, and then moved on to Fort St Catherine where we looked at the artillery store - a maze of underground passages. These defences have been in place since the early 17th century and must have provided a very comprehensive barrier to anyone trying to invade. They ensured that the island retained its sovereignty since the first British ship arrived, in 1609.
---