2 May - Antigua

Dearloves
Wed 3 May 2006 13:03
It has been a frenetic week, starting with a few days of work getting Keoma ready for racing. Part of this has involved taking off certain items, such as windsurfer boards. These things have been housed on our friends' boat, which is currently looking like Steptoe's Yard with all the extra essential cruising items (in addition to their own healthy collection of such things).
Sunday (30 April) was the first day of racing and we had a passage race to Dickinson Bay, on the NW side of Antigua. We had a lovely spinnaker run for most of the way, including a couple of gybes, which worked well. Ems, aged 13, and her Dad, Paul, were gybing the pole on the foredeck - not an easy job as it is very cumbersome - and they did a fantastic job.
The wind bend as we rounded the eastern side of the island meant that we carried the spinnaker almost all day, and the conditions were heavenly, although it was hot, hot, hot, and we wondered how we would wear our new team T-shirts for another day!
The children (Ollie, Pip, Ems and Alice) while motoring to the start. Big boats' starting in the distance.
When we arrived in Dickinson Bay we all dropped anchor and most people swam off the transoms of their boats. It had been so hot that this was a welcome relief. There was a band playing on the beach, very loudly, and a real carnival atmosphere. Water taxis buzzed around and one of these took us ashore. The results board showed that we had come 7th out of 18 boats. We watched the local band and ate a meal cooked on one of the barbeques on the beach. The view of around 200 boats at anchor, all with anchor lights on, looked fantastic in the dark. The music, food and drink flowed well into the night. It was still but relatively cool so we had a good night despite the proximity of all the boats in the anchorage, and despite the fact that there were 10 people sleeping on Keoma.
On day 2 of race week (Monday) we raced a sea course, ending up at Jolly Harbour, in the middle of Antigua's west coast. The start was very exciting - we had a wind shift right on the line, meaning we were effectively headed to a course taking us behind the Committee Boat, about 10 seconds from the gun going off. We had to put in a couple of quick tacks, and came excruiciatingly close to the Committee Boat. At one time it looked as though a collision was unavoidable and one of the women on board the Committee Boat saw us heading towards them at speed, screamed and headed down below! It was also a bit much for Alice, who said she needed to go down below for a while and cuddle her teddy, but she recovered quickly. Superb boat handling from Charlie.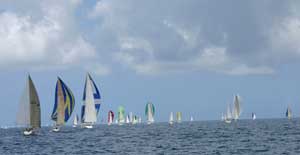 We had a mixture of downwind and upwind sailing. The wind was very light and patchy and for a long time we were parked up, stationary, right next to a buoy. It was incredibly frustrating, watching boats catch us up. It also meant that the length of the race (in terms of time elapsed) was extended, which was good news for the slower boats in our class (on handicap) and bad news for us. We managed a 10th that day. In the evening all the boats came into Jolly Harbour and were given a complementary marina berth for the night. Most of our fenders were on Blase, but we managed, somehow. Xpresso, also in our class, who we knew from the ARC, and who were next to us in St Lucia, tied up next to us. They are a boat of batchelors and always entertaining. Ashore there is a swimming pool so we enjoyed a swim, which definitely helped the aching muscles. We then headed for the island's best supermarket, conveniently right next to the marina, for a quick stock up. We ate on board, all managing to squeeze around Keoma's table, then headed for the bar, where there was another local band playing, another good night but a very late one with lots of dancing. Back on board it was incredibly hot and airless, and the mosquitos were out in force, so it was not a restful night for the ten of us on Keoma. This was not helped by a noisy fight between some locals in the early hours of the morning.
Tuesday dawned with rain, although this soon cleared up and we headed out to the start line in bright sunshine. We weren't quite so smart looking, as the team T-shirts were standing up on their own by now, so these were given a day off. Alice and Pip were fast asleap in the forepeak until the 10 minute gun, then rushed up on deck and took up their positions on the rail. We had a good start and set off with a beat, where we had a plenty of breeze and found great boat speed with everything cranked in really hard. Our big genoa, although old, did a good job. We put loads of tension on the halyard, the sheet and the backstay. We rounded the windward mark and headed off on a reach. It was a difficult decision whether to go for spinnaker - right on the edge of its directional wind range. We decided to give it a try. As soon as it was up we could see it was the wrong decision and the boat healed over on its ear. Juliet had eased the mainsheet and the mainsail was flapping, but the boat was still on the edge of a broach. There was nothing for it but to drop the spinnaker. It is a huge sail to get down and not easy to get it down the companionway. The crew had a real battle with it, with all hands to the pump, including Alice and Pip who went down below to help pull it down. We had put the genoa up already and were steaming along towards the mark (now around 1 mile away) as we got ourselves sorted out. We went to put a barber-haul on the genoa and realised that one of the spinnaker sheets was somehow jammed under the boat. We were approaching the mark with trailing rope which we couldn't pull in, whichever way we tried. There was no way we could round the buoy, in the melee of boats, and risk getting our trailing rope tangled under another boat or the mark itself. So we found a gap in the boats and headed upwind, to a clear area of sea. We furled the genoa and pushed the boom right out to stop us. We discussed retiring, but we needed to head in the direction of the finish anyway, and would not be able to use the engine with the rope down there. There was only one thing for it, we had to call in the otter. Charlie grabbed his snorkelling mask and flippers and dived over the side. He came up a short while later, having freed the rope. It had wound itself around our propellor! Being a max prop, this should not have been turning, but somehow the rope had gone around the prop a couple of times and formed a knot.
We did our best to get back in the race. As we came to the mark it was back onto a long beat back to Falmouth Harbour. Keoma was going like a train, and we took the seaward side of the track. Everyone on board worked really hard on the tacking (it is a lot of sail to winch in!) and the tactics seemed to be working. We were going faster and higher than the boats closer in to the island. It was a gruelling beat - the lovely long spinnaker run of the first day in reverse - and we must have been upwind for 3 hours. We could see Xpresso were behind us, but the rest of our class seemed to be way ahead, and although we worked hard at it, we just couldn't reel them in. The delay of 15 minutes (to free the line) was a difficult thing to recover from.
Anyhow, we finished the race with a 16th, Xpresso taking 17th. They had had problems with their spinnaker - a broach and then were threatened with a protest by another boat, in a right of way dispute.
We are now back in Falmouth Harbour, with two days of local courses, around the cans, for Thursday and Friday. Today is a lay day with beach events on Pigeon Beach.
---