Waldringfield - 30 July

Dearloves
Mon 31 Jul 2006 11:48
Our voyage home to Waldringfield from Cornwall was going so well that we had time to stop in Ramsgate for a few hours to get some sleep. We also had some great fish and chips (the first for a long time!)
We slipped our lines at 4.00am on Saturday to ensure we were on the Deben bar for high water and after a rather windless, motoring, start, we eventually put the sails up and enjoyed a light south-westerley wind across the Thames Estuary. There was a lot of commercial traffic so we were busy with the hand-bearing compass. Keoma was swooshed along in the tide, which we were still getting used to again.
When we came past the Sunk Lightship the water was starting to change colour, with large brown patches appearing in the green water. Alice said "the water's a funny colour" and at one point she asked whether we were about to hit a sandbank when we went through a very dark patch.
The Sunk Lightship (don't ask what is happening to the Genoa - it must be Juliet's watch!)
Within an hour we were in full-blown brown East Coast water. We were trying to slow the boat down as we were going to arrive at the Deben far too early. True to form, Keoma was getting us to our destination ahead of schedule. In the end we took all the sails down apart from a tiny handkerchief of genoa, which enabled us to get the speed down to around 3 knots.
We dressed Keoma overall and put up our battle flags from the ARC and Antigua Week, as well as our courtesy flags. There were several fleets of dinghies racing on the bar, which was a wonderful sight. Once they had rounded their leeward mark we could get through to the Haven Buoy and there we were met by a host of yachts all dressed overall, including Persephone, Juliet's parents' Stella and the boat she learnt to sail on over 30 years ago!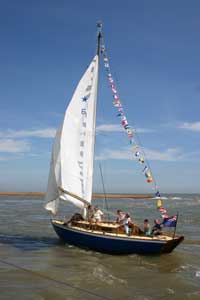 Persephone passing the Deben Bar
There was Cutler, with Charlie's parents on board, Quickstep, Saponetta, Barcarole, Hannah and Limelight. Once we were inside the river the Seamark Nunn rib, another rib with Nick Deacon (who came with us on the ARC) and finally we saw Jon & Mel Penn plus children in their Dabber.
When we came through Felixstowe Ferry we had a blast from the FFSC claxon. Juliet's brother, sister and brother-in-law, together with our new nephew (aged 6 months) were waving from the beach (they later came around to Waldringfield by car). Juliet was nearly caught out by the fearsome tide and narrowly missed running over a mooring buoy. Alice loved the sight of the multicoloured beach huts lining the beach at Felixstowe.
At Ramsholt the Dabber's outboard ran out of fuel and had to be towed - the first and last time the Dabber will ever plane!
The Penn Dabber coming through the Ramshold Moorings at high speed (hope they are observing the 8 knot speed limit)
As we passed Waldringfield Sailing Club we had a tannoy announcement of "welcome home" and lots of people waving from the club.
WSC at high water
It was a wonderful spectacle and we were overwhelmed by the reception we received. There were some new friends present as well as the old ones - Tim, Penny and Anna from Tamarisk (who we met on the ARC and who live in Chelmondiston) came to WSC by car as Tamarisk is out of the water for a refit. We counted 61 people on Keoma later in the afternoon and had so many people saying welcome home and that it was good to see us, not to mention numerous offers of help. It was the best homecoming we could possibly have imagined. The year away has been fantastic but we are glad to be home. After over a year abroad we are ready to stop travelling and settle down, and the welcome we received reinforced that feeling, even though we now have to face the realities of money, jobs, buying a house and everything else. Alice and Pip are very keen to start real school again, which must be a good thing. Hopefully there are not too many gaps in their knowledge after a year of home education. We will certainly be happy to hand over the role of teacher, which has been one of the biggest challenges of the year.
We are currently tied up on a mooring and have been enjoying swinging with the changing tides. We are reminded how beautiful the Deben is, with perfect birdsong and mud that has a slight smell of mussells. This evening the light on the river was soft and golden but very clear and the water was flat as a mirror. We are so appreciating having long evenings again, after the 6.30 sundowns of the Caribbean. Seamark Nunn have leant us a superb rib and we had a glorious trip down to the Ramsholt Arms this evening. We forgot to take any money but they said we could post them a cheque and didn't even take our details down! (Good thing they don't know we are unemployed).
Keoma's next and last journey with us will be down to the South Coast where she will be tidied up and put up for sale. We are planning to take her there in a week's time.
---