La Gomera - 31 October

Dearloves
Tue 1 Nov 2005 09:16
We are still in San Sebastian, La Gomera. Alice has done some optimist sailing with the local sailing school:
Optimist Support Boat
The rest of us went to the market and bought some fantastic fruit. The mangoes and oranges are the best ever - so sweet!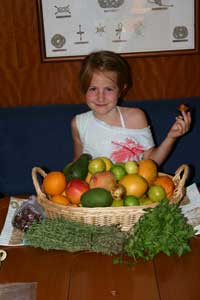 Pip - you can't eat all that at once
The children were given some fish by one of the fishermen, which were very tasty.
Fish Preparation on the jetty
Their fishing in the marina has not been so successful, but we are quite glad, as we don't fancy eating the fish from the marina!
We have been working on the boat - here is Charlie servicing a winch:
Other recent works are:
Fitting of new masthead light (Charlie had to be winched up to the top of the mast) to put a three coloured light on (red on port, green on starboard and white behind) instead of just a white one. It will be safer to have this lit at night, meaning that from a distance our direction of travel can be seen. Our bow light is often hidden behind waves.
Replacement of all the pipework in the water maker (these kept bursting dramatically, covering anyone and anything in the vicinity with water). Changing of filter on water maker.
Servicing of cam cleats.
Polishing of hull and cabin top (including T cutting where needed).
Cleaning and polishing of stainless steel.
Fitting of lea cloths (to stop us falling out of the bunks when the boat is at an angle or rolling, which is likely on the crossing).
Repair of gelcoat on stern (from where a sudden mistral blew us into a dock).
Repair of hatch cover above saloon (children damage).
So it hasn't all been fun and games! However, here is a picture of the children dressed up for Halloween - the marina had several dinghies full of children doing "trick or treat". The other boats were very game and we heard screams and laughter from various parts of the marina throughout the evening. For broomsticks Alice and Pip had the deck brush and a fishing net (A was a "child catcher" witch) and Alice's wig came from a wonderful shop called the Oriental Bazar (one of our favourites in San Sebastian).
The plan is to leave here tomorrow morning, heading for Santa Cruz de la Tenerife, which we are told is lovely. We will spend a few days there before heading back to Las Palmas, Gran Canaria for the final 2 weeks of preparation before the ARC starts.
---