Las Palmas - 18 November

Dearloves
Fri 18 Nov 2005 12:32
Yesterday we watched a helicopter rescue demonstration:
Then we saw flares being set off:
After this Juliet and the children went to a liferaft demonstration in the marina pool. We all got into a liferaft, so that the children could see what it would be like if we had to do it for real.
Later on, Nick and Amanda arrived:
Charlie and Amanda celebrating the arrival of the new crew
The whole crew this morning
Earlier today we went to the market to buy fruit and vegetables for the trip. These are being delivered this afternoon.
As a surprise, Nick and Amanda had some crew shirts made up for us: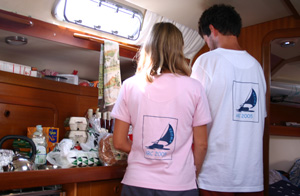 ---