Antigua - 12 March

Dearloves
Mon 13 Mar 2006 03:29
We are back in Nelson's Dockyard, having circumnavigated Antigua.
The dock where Keoma is moored
The children have again enjoyed being stern-to the dock, giving them the freedom to get on and off the boat as they please. They have spent time in the museum, hopefully learning about Nelson.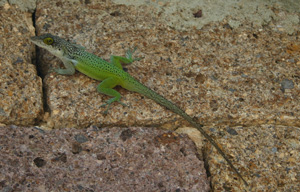 Lizard on a nearby wall (around 30cm long)
Richard Matthews' Oystercatcher XXV is here, complete with new rig:
Oystercatcher XXV
Tomorrow we will sail back to Guadeloupe, for a couple of days there before Trevor and Mary fly home.
---