Grenada - 25 January

Dearloves
Wed 25 Jan 2006 18:42
Yesterday was Ollie from Blase's 11th birthday. We asked Cat Eye (who has now become our personal driver) to take us to Concord Falls in his mini bus. There were 14 of us but we all managed to squeeze in.
L-R Eddie, Pip, Alice, Ems, Anna and Ollie
Unfortunately it was a rather wet and windy day but we still enjoyed the waterfall.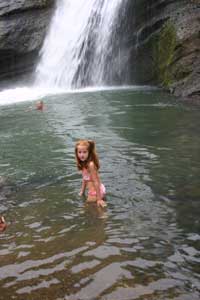 Pip in the pool
Many of us enjoyed jumping off the top
Ollie mid-air
Cat Eye had arranged some lunch for us, including some delicious roti (the local spicy chicken and vegetables, wrapped in a pancake).
Alice enjoying her roti
After our lunch and swim we went for a very muddy walk through the rain forest. We found some rapids and had to wade part of the way through the river.
All in all it was a great day for everyone. We went to the nearby Chinese restaurant in the evening and Alice and Anna gave Ollie a special treat by doing his hair for him. He was so tired that he put up with it.
---