Nevis - 23 March

Dearloves
Fri 24 Mar 2006 18:26
Nevis is a beautiful island - having arrived in the dark on Monday, we awoke the next day to views of a beautiful palm tree lined beach with golden sand and a mountainous backdrop.
We decided to go for a walk with Paul, Fi, Ems and Ollie from Blase yesterday, and hiked up to the watersource above Golden Rock. It took us around six hours in all and we saw some amazing rainforest on the way up. We obtained maps from a local hotel and set off around 9.00am, before the heat of the day was at its fullest.
The Golden Rock Inn, an old rum distillery with beautiful gardens
There were many beautiful plants, including some magnificent ferns. We saw around 50 heliconia flowers growing wild. The ones in the picture are red but we also saw yellow ones: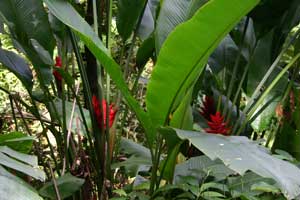 The hike involved us reversing down a steep slope, holding onto a rope, and climbing up a 120 foot rusty ladder. We went up the ladder individually in case it gave way. Below is a picture of Pip on the ladder (about halfway up), although it is hard to see her.
Alice, Ems, Charlie and Pip at the Source
On the way back down we passed some little houses:
We passed through further woodland, with many butterflies and plants.
Banyan Tree with amazing roots - look out, or they will get you!
Pom-Pom plant (named by us)
We also saw lots of African Green Monkeys:
On our way back to the boat we passed a fisherman who had an amazing catch of dolphin fish. He had caught these using lures made from flying fish, and had around 15 large fish in his boat.
---