Saba - 22 April

Dearloves
Sun 23 Apr 2006 06:16
After a very brief stop in St Martin (just to provision the boat), we headed to Saba for a few days. The island is unique in that it is very high-sided, with no beaches and getting ashore in a dinghy can only be described as a challenge.
This morning we dinghied to the main port area, where the small ferry that serves the island from St Martin and St Eustatius docks. Going there was a very wet affair - we were soaked through when we arrived.
A taxi reversed up along the dock and Billy wound down his window. He didn't push us for business, just sat there and smiled at us. As we tied up the dinghy he said "hello". We couldn't resist talking to him. In the end he drove us to the start of the Mount Scenery hike. We walked up one of the island's original "roads" - a track of 1064 steps to the summit. It was pretty tough going. One and a half hours of thigh-busting work and the same to come back down.
When we go to the summit (2877 ft) there was a choice of two look-outs. We went to the nearest and it was obscured by cloud. We gave up hope of seeing the view from the top. We walked back to the main track to eat our sandwiches. Suddenly the cloud cleared. We ran full pelt to the second look-out, which was only around 200m away, but involved splashing through mud and climbing up a rock face with the help of a rope. We did get there in time, and saw the breathtaking view. Statia was clearly visible.
At the foot of the island beneath us was the island's airstrip. Because of the island's geography, it had been said that planes could not land here. This only made the locals try harder and they had a landing stip built, which is now used for regular (apparently terrifying) flights onto and off the island. But they had also previously been told that roads for motor vehicles were impossible, and showed a similar determination. One local enrolled in a correspondence course in roadbuilding and they made their own road. We saw a plaque dedicated to "Joseph Hassel - engineer of the road that could not be built".
The wildlife along the climb was great, including lizards and snakes, and very vocal birdlife. Part of the way was through rainforest with beautiful ferns and heliconias.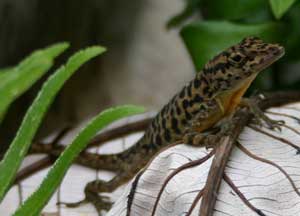 Anoles Lizard (only found on Saba) - it has a yellow dewlap for courtship displays
When we arrived back in Windwardside (one of the island's two villages) we visited a glass-blowing workshop, which Alice and Pip found very interesting. They bought some glass beads. As we walked past Billy's house, he came out and asked us if we would like a lift back to our dinghy. He left his front door open (and there was obviously no-one else at home) as he set off.
Our mooring here has not been very satisfactory. Because the island is so steep-to, it is difficult to anchor and so moorings have been provided. However, these have such a lot of rope on them that we keep getting our one wrapped around the keel as the boat swings around in the wind (which comes from all angles here) and current. Our keel has a bulb which prevents easy unwrapping. Once it is wound around, the mooring buoy bangs loudly on the hull next to the bow (where we are trying to sleep). Yesterday this happened at 4.00am and it also happened in the early hours of this morning. Initially Charlie decided he would jump in to free it. I shone the torch over the bow onto a barracuda shark which was around the size of Pip and he changed his mind. So we used a combination of people-power (hauling on the mooring line) and boat engine to turn her. The use of the engine required care, as to wrap the rope around the propellor would have added to our woes. As a result, we are a bit short on sleep, although quite used to disturbed nights now!
---