Keoma - 3 December

Dearloves
Sat 3 Dec 2005 18:57
Last night was quiet with a gentle ENE force 3 and we all slept like babies. It was a stunning night with no cloud and beautiful stars, although there was no moon. The air seemed so clean and pure, it smelt perfumed. On nights like these, doing 2 and a half hours of night watch alone is a real treat - wonderful peace and quiet.
This morning saw the dawn of another glorious day and the children did their schoolwork. Alice had a maths lesson with her new maths teacher, Mr Deacon, who she said was quiet strict but alright really.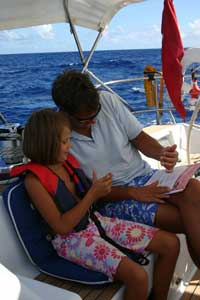 Here is a picture of us having lunch in the cockpit - note the freshly baked loaf in the foreground.
Nick has done some can sculpture:
Pip, Alice, Juliet and Charlie
Amanda and Nick sitting on the swimming transom
---