Bequia - 25 December

Dearloves
Mon 26 Dec 2005 02:06
Today was a wonderful Christmas day. It started with opening presents on board. Although we had far fewer presents than usual, we really felt that everyone appreciated them more. The day started with squally winds up to 28 knots and rain showers. For a while it was looking as though we would need an umbrella and a stiff upper lip for the planned beach party. We tried calling home but it was hard to get a line, and when we did it was difficult to hear. However, we did speak to a few friends and family from home, which was great. Needless to say, the news that it was raining here was very well received!
Opening presents from Santa (he found us!) in the forepeak
The weather cleared up mid-morning and around 12 noon we headed for the beach, where we filled a dinghy with ice and piled in beers, wine and soft drinks. We were a little worried that there was no sign of the barbeque that we had organised, however these fears were soon allayed:
BBQ arriving
There were quite a few there, including around 20 children, most of whom spent nearly all day in the sea.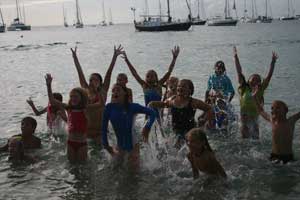 We even had music by Elvis:
Elvis on steel drum
We had chicken, tuna and lobster cooked on the bbq. Finally, I cooked a christmas pudding (bought out from the UK for us by Nick and Amanda) on the barbeque, which was distributed along with some brandy sauce and went down very well. Even the non-Brits enjoyed it.
---