Graciosa - 29 June

Dearloves
Sat 1 Jul 2006 12:52
Last night we tied up to the quay in Graciosa, in front of Wild Alliance and Temula B. We decided to do a walk today so all 14 of us set off to walk up the local caldera. We walked through the town of Praia (the main port of the island).
The local houses are simple and generally well kept. Many are just two rooms:
Two houses, each one up, one down - part of a long row overlooking the sea
Sadly, there were a lot of run down buildings with what might be called "development potential". This reflects the shrinking populations of these islands, as the young people tend to move to the mainland once they are old enough to leave their parents.
Local man ploughing with donkey
Again we saw breathtaking scenery and beautiful flowers, including stunning purple hydrangeas - none of the pale blue we saw in Flores.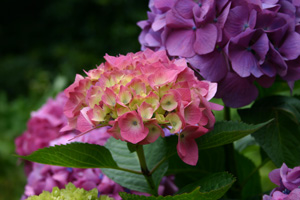 View down to the sea on the way to the caldera
The landscape inside the caldera was very lush:
(l-r) Alice, Joe, Will and Pip
When we reached the top of the caldera (extinct volcano) we walked down into the crater and found an enormous cave with a sulphur spring in it. This is called Furna do Enxofre (meaning "Sulphur Cavern").
We walked down 144 steps to get into the cavern and it was too dark for photography, however it was enormous and had wonderful echoes which the children enjoyed. The sulphur spring bubbled muddily and the rocks were hot to the touch. There was a lake at the bottom with a boat in it, which we thought very Harry Potteresque (the Half Blood Prince). We were all quite breathless with the lack of oxygen, and understood how it happened that two people died here (from suffocation) a few years ago.
After climbing back up the steps we stopped for our picnic and a rest. We then walked the three miles or so back to the boats.
When we got back to the quay we were told that we must move in order that a container ship could come in and unload, so we decided to set sail for Terceira, as we had a good SSW wind, and arrived around 11.00pm. It was a wonderful beam reach most of the way and we had Keoma surfing at 12 knots at one point.
---