St Lucia - 15 December

Dearloves
Fri 16 Dec 2005 02:04
Yesterday we sailed from Rodney Bay to a mooring spot between the Pitons. The scenery is stunning, with a Piton towering above us on either side and the area between coloured in so many different greens. Last night we went for dinner at a restaurant called Bang, which was open air and where there were acrobats, fire eating and local music.
Bang between the Pitons, from our mooring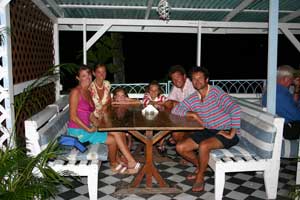 Our Group at Bang
One of the acrobats/fire eaters
The food was delicious St Lucian fare and the acrobats were incredible. The fire show included audience participation, and Alice joined in:
Alice passing a firebrand up one of the entertainers' backs, touching the skin
Juliet ate some fire (sorry, no picture of this - you will just have to take my word for it) and survived without any burns.
This morning we all swam to the shore (around 400m) including Alice and Pip.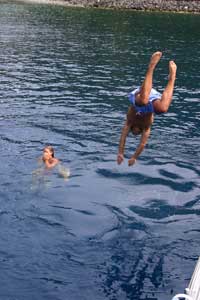 Nick diving in from the boat
We spent the day at the Jalousie Hilton, right next to where Keoma is moored. There is a beautiful swimming pool and garden area, shown in the picture below. Keoma can just be seen on a mooring, if you look between the trees. To the left of the picture is Gros Piton.
---