49 57 606N 10 22 975W - 21 July

Dearloves
Fri 21 Jul 2006 14:44
The last 24 hours have been the most wonderful sail. We have had SSW winds of 15-25 knots and have been storming along, mainly with one reef in the mainsail and either full genoa or staysail. Our speeds have been superb - a consistent 8-10 knots with regular surfing at 11 or 12 knots. We saw a top speed of 12.8 knots late last night. We covered 193 miles in the 24 hours to 1200 today, and think it might have reached 200 if we hadn't had to stop and take a bird off the fishing line. We were greatly excited when the rod started to whizz, after yesterday's catch, but then realised, once we started winding in, that it was not a fish, and the bird was dead when we landed it on the transom.
We have been talking about what we are looking foward to when we arrive in Blighty. Charlie has his tongue hanging out for a pint of IPA. Juliet is looking forward to a salad from her Dad's garden, the children want to ride their scooters, and Mark wants to see the Scillies (or did he say he wants to be silly?) I think we are all looking forward to seeing something other than water, and for those that have been away for a year, to a bath and to eating a real Sunday roast and a proper British sausage.
It is sunny with blue skies, the sea a sparkling blue/green and we have just crossed the northern end of the Great Sole Bank, taking us into the shallower waters of the UK. Instead of water 4000 metres deep we are suddenly in 140 metres. The boat is nodding gently in the waves - no more careering down the Atlantic swell.
Mark
We have seen two ships and a fishing boat today, plus aeroplanes in the sky, which we haven't seen for weeks. A small plane flew overhead and then turned around for another look. We could see that it was French - Charlie thinks it is a Hercules. We have also been contacted via the VHF by a ship that is carrying out a seismic survey and towing a cable of up to 10km long - we'll be keeping well clear of that!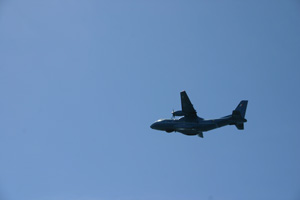 The distance to Bishop Rock now stands at 142 miles so we expect to arrive in the Scillies around midday tomorrow. We plan to stop off at Falmouth which then means that we are estimating our arrival on the Deben Bar as 1500 hrs on Saturday 29 July. We would be most grateful for anyone who can give us escort over the bar (and give us a tow when we go aground!) and it will be drinks all round on Keoma when we finally arrive in Waldringfield. As ever with sailing, this is weather dependent and it is possible we may be delayed, we'll update this website with any changes of plan.
---